Summer Internship strengthens passion for research

Lauren Douglas, third-year mechanical engineering and biomedical engineering student displays a Finite Element roof crush model simulation of a FMVSS 216a standard physical test.
Lauren Douglas has always had a passion for research. So when she was presented with the option to enjoy a well-deserved break or work full-time for 16 weeks in an Undergraduate Summer Research Internship, she chose the latter.
Douglas, a third-year mechanical engineering and biomedical engineering student, was concerned with reports from the United States' National Highway Traffic Safety Administration (NHTSA) that indicated rollover crashes account for approximately 30 per cent of fatal crashes. 
In a rollover crash, injuries to restrained occupants can be caused by roof crush where the roof caves in on occupants due to weakening or damage to its structure. In 1973, the NHTSA introduced the Federal Motor Vehicle Safety Standard (FMVSS) 216 which required vehicles weighing less than 6,000 lbs to be able to withstand weights equivalent to one-and-a-half times the vehicle's weight without the roof crushing more than five inches.
In 2009, the NHTSA introduced FMVSS 216a that stipulated those same vehicles would now need to endure three times their weight without the roof crushing more than five inches. 
Under the tutelage of Haojie Mao, assistant professor and Tier 2 Canada Research Chair in the department of Mechanical and Materials Engineering, Douglas' study analyzed the effect of the roof crush standards update on occupant safety to determine if further updates are required. 
"As the main researcher, I developed the project and pitched it to professor Mao who guided me and gave further ideas," said Douglas. "He helped me ask some of the critical questions as I worked my way through the data."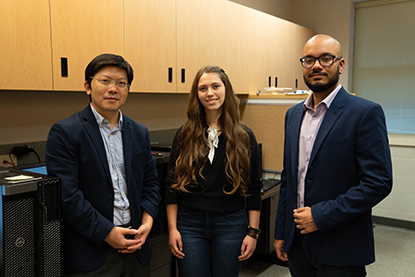 A total of 30 rollover crashes were identified involving 2010-2012 vehicle models and this was compared to 33 rollover crashes with 2017-2019 vehicle models. Her research showed that there was a 23 per cent decrease in head and spine injuries in the vehicles that passed the updated FMVSS 216a standard. However, it also found that in those vehicles observed roof crush occurred in 51.5 per cent of crashes, with the most common injuries regarding roof impacts being basilar skull fractures and cerebrum subarachnoid hemorrhages.
As shown in her study, the 2009 update decreased the risk of head and spine injuries. However, an improved
rollover standard is still encouraged in order to further ensure occupant safety in rollover crashes and decrease the resulting number of annual fatalities.
Her research was published in the BMES Journal in October, and a poster presentation was done at its 2022 annual meeting in Texas, USA.
"I love research and I think it's something I want to go further into after I graduate. I think just being able to have a project that I was passionate about and to receive the support I got was incredible," she shared. 
"I enjoyed every moment, and it was an honour to work with professor Mao. I just really want to make a difference and hopefully, save someone's life," she added. 
The Undergraduate Summer Research Internship provides opportunities for undergraduate students to obtain research experience during the summer months (May-August) and stimulates research interests in the natural sciences and engineering fields. It is hoped that these internships will motivate and encourage students to pursue graduate studies in their respective fields.
It never felt like work. It was fun, exciting, and an amazing opportunity. It's been honestly one of the best experiences I have ever had and I am excited to see where this research leads.