Students develop solutions for sustainability problems
At Western, students are continually encouraged to push the boundaries of their disciplines to adopt a global mindset. 
Driven to be scholars whose education and leadership will serve the public good, 144 Western students were among 36 teams to participate in the annual How to Change the World challenge. 
The global student experiential learning program, which empowers students to collaboratively develop solutions for real-world sustainability problems, was held at Western from November 2 - 4. 
Several faculties represented Western, including students from Engineering, Social Science, Arts and Humanities, Science, Health Science, Medicine and Dentistry, Information and Media Studies, Music, and the Ivey Business School. 
The next generation of Western tackled global sustainability challenges including, 'Zero Hunger in Northern Manitoba and Khartoum, Sudan' and 'Clean Water and Sanitation in Thunder Bay, ON and Beirut, Lebanon.' Mentors were on hand to help provide different perspectives, subject matter expertise, brainstorming and innovative support.
The best overall winners will advance to the semi-finals of Western's World's Challenge.
Team Awards
Participant's Choice Award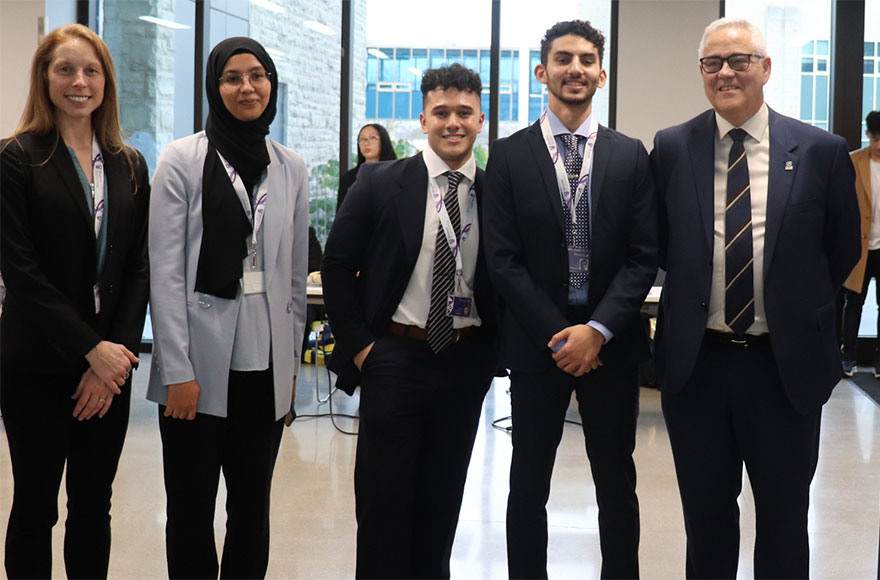 The Water Retention Tank (WRT) Initiative - (Pictured from left to right: Alana Heath, co-founder of How to Change the World; Tasnim Ben Mansour, Ricardo Soto and Ali Elsadi of the WRT Initiative Team; Ken Coley, Dean of Western Engineering)
Cohort 1 Winners

| | | |
| --- | --- | --- |
| | Project | Team Members |
| Best Overall: | Food Insecurity in South Indian Lake, Northern Manitoba | Emily Zhang, Adshayah Sathiaseelan and Rachel Chan |
| Most Implementable: | How to Create Self-Sufficient Indigenous Agricultural and Address Food Insecurity | Jordann Campbell, Somya Sharma, Jaewuk Lee |
| Most Creative: | Sustainable Futures for Remote Indigenous Communities | Kelsea McPherson, Kate Deebrah, Michael Ratchev, Ricky Wang |
Cohort 2 Winners

| | | |
| --- | --- | --- |
| | Project | Team Members |
| Best Overall: | Communal Urban Micro-Farming in Khartoum's Schools | Dhylan Usi, Firuza Huseynova, Ayman Sholkani, Angelica Kuai |
| Most Implementable: | The Wonders of Mosques and Hydroponics | Bryan Jang, Cynthia Cui, Dalia Sroor |
| Most Creative: | Peanut Farmers to Combat Malnutrition and Unemployment | Lakshmi Sravya Y, Sasha Brown, Sargun Kaur |
Cohort 3 Winners

| | | |
| --- | --- | --- |
| | Project | Team Members |
| Best Overall: | Filling the Gaps - Water Pollution Impacts on Fort William First Nations Health | Megan Ng, Zhou Fei Qian, Saniya Agarwal, Jansen Acosta |
| Most Implementable: | Clean water in Neskantaga | Parnika Aima, Wenqian Li (Laila Li), Jun Rao |
| Most Creative: | "Bridge the Gap" Initiative | Leeza Huang, Rocky Su, Isabella Yang |
Cohort 4 Winners

| | | |
| --- | --- | --- |
| | Project | Team Members |
| Best Overall: | A Tailored Solution for the Shatila Refugee Camp Water Crisis | Koami Hayibo, Emily Liu, Ankit Ray |
| Most Implementable: | Water Wizards | Adeline Stephanie Lee, Ajay Zire, Kiran Halkitis, Mariam Arif |
| Most Creative: | Shatila Refugee Camp, Beirut | Nikita Dhawan, Oliver Wang, Sky Zhang |