Sadhu Awarded Inaugural Junior Faculty Award for Excellence in Research
Civil and Environmental Engineering Associate Professor Ayan Sadhu is the inaugural recipient of the Junior Faculty Award for Excellence in Research. This new award is given to a faculty member who has demonstrated great potential in research scholarship by virtue of the exceptional quality of their contributions. It was also created to provide a way for members of the Engineering community to appreciate and celebrate the research achievement of their junior faculty members.
"I'm extremely honored to receive this prestigious Junior Faculty Award for Excellence in Research and I consider this a culmination of hard work and dedication of my entire research team who has shown the impact of my research to the national and international level." said Sadhu "And having said that, I would like to thank Dr. Ashraf El Damatty in the Department of Civil and Environmental Engineering for his valuable nomination and support."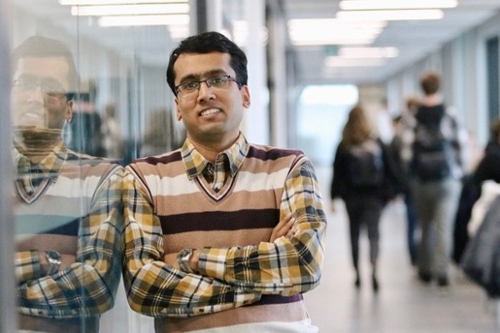 Among a number of other important contributions, Sadhu is being recognized for his research in the field of Structural Health Monitoring (SHM), an emerging field in structural and civil engineering where Sadhu is using next-generation sensing technology and Artificial Intelligence (AI) to tackle the challenges facing aging Canadian infrastructure.
"I consider that Dr. Sadhu, as an early-career researcher, has demonstrated an exceptional track record of research." Said Dr. Ashraf El Damatty, Professor and Chair in the Department of Civil and Environmental Engineering. "He has published over 100 research articles with an h-index of 22 and secured nearly $1.5M research funding from several industrial agencies and federal and provincial grant agencies, including NSERC Discovery, Alliance, CFI-JELF, ORF-RI, Mitacs Accelerate, NRCan and Early Researcher Award (ERA) from the Ministry of Ontario."
Sadhu's impact on the research community doesn't just culminate domestically. Having put considerable effort into ensuring that his research is multi-disciplinary Sadhu has demonstrated a unique ability for partnership and has become known internationally for his impressive ability to collaborate.
"He is also an excellent collaborator; he is actively collaborating with researchers inside and outside Canada. Said Dr. Jerome P. Lynch, Dean of Engineering at Duke University. "He has unquestionably developed an impressive research team at Western University which is producing some of the most innovative research currently being pursued by the international structural health monitoring field."
While Sadhu's list of accomplishments is immense, a unique feature of his impact on the engineering community has been his ability to mentor new engineers. For example, among his 40 journals and 25 conference papers published during the last 6 years, 90% were co-authored with his own personnel with 85% of them as the first author.
"I try to spend as much as time as I can with my students and not only just during the first year, during the entire process of their PhD or masters research, and make sure they are not struggling with respect to any issue, even the experimental development or technical write up." said Sadhu.
"I consider one of the main contributing factors for any graduate student is to conduct research independently and publish during their doctoral research and get the associated training so that when they become independent researchers, they can also publish with their own students."
In a short period of time Sadhu has been able to accomplish a great amount. It is no surprise then, with his leadership the Department of Civil and Environmental Engineering will be opening a new Artificial Intelligence laboratory where, for the first time, "students will receive valuable exposure to high-tech sensors and tools for construction, survey and inspection of civil infrastructure" stated Dr. El Damatty.
"In research, there is no time limitation, or boundaries for innovation." adds Sadhu. "So, it's really a lot of patience and support that's needed from the family side. I have been extremely grateful for my family as well for this. As a junior faculty member, this award is another source of recognition to do more and go to the next level."
Western Engineering congratulates Dr. Sadhu on this hard-earned award and thanks him for his continuous efforts in the Western Engineering community.
Western Engineering will be honouring Dr. Sadhu and other award recipients on May 26th, 2022 at the Faculty, Staff and Alumni Awards Gala.