Michelle Wagler Receives Award of Recognition for Exceptional Contributions
Awards of Recognition are presented to individuals who have shown outstanding performance over a calendar year, often for a particular initiative that has had an incredible impact on the success of the faculty. This year, Michelle Wagler, among many other accomplishments, took on an immense and challenging initiative with very little notice and achieved results beyond expectation.
"I feel very thankful that I was selected. I feel a lot of gratitude," said Wagler. "Just the fact that I am to be recognized with my peers in-person, I'm honoured, humbled, and it's very hard to put it into words, quite honestly."
In fall of 2020, a sudden staffing change arose in University Machine Services (UMS) and the unit was left without a leader. In addition to the extraordinary obstacles presented by COVID, the UMS were faced with a situation in which a particular skillset and leadership style were required to help support the faculty and rebuild trust within the unit. The search for an Interim Director became a high priority and the Dean called upon Wagler.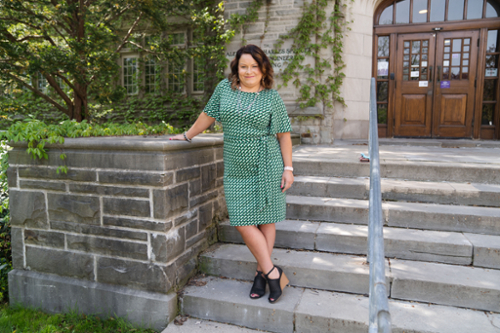 "Her willingness to step in when UMS needed new leadership, which meant to step into a leadership role in a new team that had recently suffered turmoil . . . . stands out as an example of exemplary service, said Associate Professor and Chair of the Electrical and Computer Engineering department Ken McIsaac.
Wagler not only transitioned capably, quickly and with, as Assistant Professor and Student Shops Advisor Dr. Jacques states "gracious professionalism". Graciousness and transparency would soon become hallmarks of Wagler's management style in supporting the UMS. Congruently, her unique leadership style allowed her to become "the glue that kept University Machine Services operating during a difficult period of transition," said Director of Administration, Christina Bobier.
When asked how her leadership style was able to contribute to her success Wagler said, "A lot of collaboration, a lot of open communication, and working together. Also, taking those moments to recognize achievements as they happened. The pandemic was trying on everybody different in different ways. Remembering to show compassion when dealing with people was crucial."
The effects of Wagler's impact were not only felt in the UMS or in her home department of Electrical and Computer Engineering. Leaders from numerous units within the faculty have provided their support for her positive impact.
"Michelle's dedication to her work is most evident in her commitment to creating a work culture that is welcoming and engaging," said Clare Tattersall, Manager Undergraduate Services. "Michelle's open and warm personality makes it easy for colleagues to connect with and trust her. She is always willing to help, listen and support."
It is abundantly evident that Wagler's impact on the Faculty of Engineering has been monumental in a time where challenges were presented not only within the faculty, but to the world. Her impact has been felt in the organization through both leadership and a willingness to take on an incredible task at a challenging time.
We are delighted to celebrate her and all the awardees on Thursday, May 26th at the annual awards banquet.