Lauren Lake named inaugural recipient of the Engineering Young Alumni Award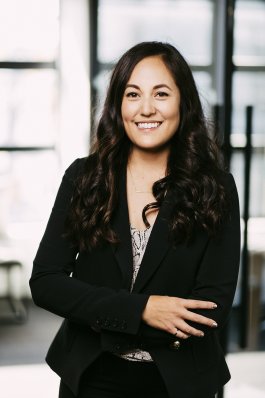 Western Engineering is pleased to introduce an annual young alumni award to recognize alumni who have made exceptional contributions to their professions or communities.  
The 2022 Engineering Young Alumni Award recipient is Lauren Lake, BESc'13, Co-Founder and COO of Bridgit, a construction technology company focused on building software for large-scale general contractors. 
"It is a huge honour to be the inaugural recipient of this award," said Lake. "Our company was born at Western while I was finishing my final year in engineering and I remember being unsure about the future and what I would be doing."  
"Now, ten years later, I am receiving this award and it is not something that I could have imagined, "she added. "I feel like I've really found my voice and my passion. The work is as challenging as it is rewarding. I am continuously learning and I love that." 
Lake is a trailblazer who is revolutionizing the construction industry with her company's products and through her female-led organization, is an icon for women in the industry and the field of engineering.   
Bridgit's flagship product - Bridgit Bench - which was launched in 2019, is now used by over 20 per cent of the leading contractors in the United States. As a leader, innovator and mentor, Lake has earned several accolades including, the top prize at Google Demo Day, named in the TechWeek 100 list of Entrepreneurs, named to the Forbes Manufacturing & Industry 30 Under 30 list, and the Best of Canada Forbes Under 30 Innovators list with the company named as a Top Growing Canadian Company in 2020 by the Globe and Mail and in the top 40 best places to work in Canada.   
"Looking back, my business partner Mallorie Brodie, HBA'13 and I were in a unique situation," said Lake. "We were fortunate to be accepted into the Next 36 program while we were in our final year at Western University…we were two young female founders in male-dominated spaces because we were at the intersection between construction and technology."  
Since launching in 2012, Lake and her business partner have grown their team to over 100 employees, earning US$25 million in equity financing with capital from investors such as Autodesk and Salesforce Ventures.   
Despite the many successes, the culture at Bridgit "is very humble, collaborative, and transparent," noted Lake. "We talk a lot about leaving your ego at the door." This is a key component of Lake's approach to business and leadership. Her humility fosters an environment that strengthens collaboration and inclusivity which allows team members to bring questions and ideas forward with confidence.  
"Our business approach has always been iterative and customer-driven," said Lake. "We've always talked to our customers, and I think that is what has allowed us to break into the construction industry because we're solving actual problems that have been identified by the end-users."  
The former Woman Entrepreneur Award winner serves the community in many ways. Lake is an extraordinary professional who serves as a role model both as an entrepreneur and as a respected member of the construction industry.  
Lake serves on the board of Communitech – the hub for the commercialization of innovation in the Waterloo Region and Next Canada, the program where Bridgit got its start. She is credited for the development of Western Engineering's career readiness workshops and is always willing to support her alma mater as an alumni recruiter and keynote speaker for several Engineering lectures and events.  
"I want to keep building this company," said Lake. "We have a really aggressive plan for the future and a few years ago I would have been more conservative or doubtful but now, looking at what we want to achieve, I believe it's possible."   
This increased confidence has been built over time through experience, perseverance, and teamwork.  
"The reality is that there are fewer female-founded tech companies out there so we see it as our role to help redefine what a successful tech company looks like," said Lake.  "When two young females in the future walk into a boardroom, will they be given an opportunity?"  
"As much as there are some people who didn't take a bet on us or on me, there's obviously so many people that did take the bet and gave us an opportunity. I feel so privileged now to be in a position where I can take a bet on people who maybe other companies wouldn't," she added. 
For the next generation of engineers who contemplate following in her footsteps, Lake's advice is simply "to set the bar high and not be afraid to go after something big."