Lauren Briens honoured for excellence in teaching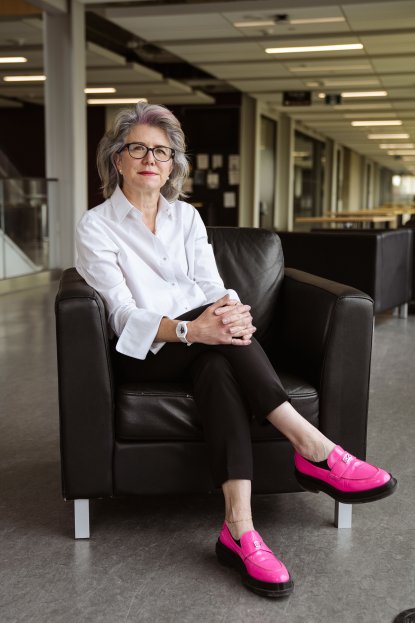 Chemical and Biochemical Engineering associate professor, Lauren Briens is this year's recipient of the R. Mohan Mathur Award for Excellence in Teaching. 
The award is presented annually to an outstanding Western Engineering faculty member to recognize their exceptional contributions to University teaching and the promotion of academic excellence among our students. 
"I'm happy and honoured to receive this award," said Briens. "We have great students who are willing to learn, and they challenge and inspire me to do more." 
"My goal is to design educational experiences for students that promote skills in problem-solving, critical thinking, creativity, leadership, and self-motivation," she added.
Over the past 20 years, Briens has served the Faculty of Engineering as an educator, course developer, graduate supervisor, academic counsellor, mentor, and is recognized as a strong supporter of female representation in the field of engineering. 
Briens is lauded for the development and revision of several undergraduate and graduate courses including a new experiential learning course - Engineering Coffee – which launched in the 2021-22 academic year to help improve students' understanding of core engineering concepts through the lens of coffee manufacturing. 
She also developed an experiential Engineering in a Global Context course in 2016. This faculty-led study abroad course was a first of its kind, providing upper-year Western Engineering students with an opportunity to experience different cultures, businesses, engineering practices, and cutting-edge industrial technology.
In collaboration with faculty members, she redesigned the ES 1050 Introductory Engineering Design and Innovation Studio course in 2016 adding interactive workshops and modified teamwork practices making it more inclusive to gain more equity learning outcomes for all students.
Students in their review said, "Lauren Briens clearly cares about her students and her work, and actively encourages student collaboration and engagement. She presents concepts in a concise manner and goes above and beyond to answer questions. Her classroom space is warm and welcoming."
Another student said Briens found "great and interesting ways to apply chemical engineering concepts to things we use every day."
Briens is also a new Teaching Fellow for the Faculty of Engineering in the Centre for Teaching and Learning, a feat she recently earned for a new project - Impact of Active Learning on Student Enrolment, Engagement and Career Pathways in Chemical Engineering. The project involves a core course redesign in Chemical Engineering which shifts the focus from the traditional application of oil and gas industry course principles to more modernized and varied career applications like health care and the food industry which accurately reflect the current industry landscape.
As a female engineer, she takes seriously the role of nurturing the next generation and believes it is important that "female students see women leading in the industry and the classroom until this becomes the norm and not an exception."
"If I can help to inspire the next generation of female engineers or help to clear a pathway, that would be great," she added.
Katherine Wilson, Master of Engineering Science (MESc) candidate said, "Professor Briens is the most passionate and inspiring professor I have ever had the honour of working with and I can truly say that without having met her I would not be the student or person that I am today." 
Western Engineering is thrilled to celebrate this outstanding achievement with Lauren Briens and will honour her and other award recipients on May 26, 2022, at the Faculty, Staff and Alumni Awards Gala.