Karen Henry earns award for outstanding achievement
Karen Henry, Administrative Officer, Department of Mechanical and Materials Engineering (MME), is the 2021 recipient of the Sharon A. Ling Award of Excellence for Outstanding Achievement by a Staff Member.  
The award is presented annually to a Western Engineering employee to recognize their exceptional long-term contributions in support of the academic, research, innovation, public service or administrative missions of the Faculty of Engineering.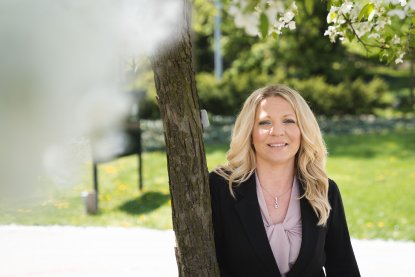 "I was really moved by the letters of support I received, and I am very grateful for the support of my colleagues," said Henry. "I didn't realize the impact I had on my peers and I am honoured to receive this award."  
Henry is acknowledged for her strong dedication to supporting students, faculty and administrative staff within the department of MME. She has created planning documents and electronic workflow for processes to maximize efficiency, streamline tasks, and introduced quality checks to minimize the potential for errors. 
As a problem solver focused on the mission to support the future success of the faculty, Henry led an initiative to develop a KUALI-based purchasing workflow for Capstone students. This system helps to streamline approvals and track expenses by student teams which emulates what they would experience in the world of work.  
Henry's leadership, positive attitude, and willingness as a team member to look for new ways and ideas to support the academic health and wellness of the Faculty of Engineering over the past years have been immeasurable. 
One of her many contributions includes serving as an Administrative Officer for an additional department in the faculty for six months. Despite the complexities and challenges of performing this dual role, Henry was a consummate professional and supported both units with distinction. 
Anthony Straatman, professor and MME department chairperson hailed Henry as a "natural leader who takes initiative wherever she sees an opportunity or a need."
"Karen Henry personifies all the qualities of an exemplary staff member and is most deserving of the Sharon A. Ling Award of Excellence. She is positive and friendly, hard-working, and enthusiastically embraces the daily challenges of working in the faculty. She supports the faculty mission and emulates all the positive qualities of Sharon Ling. I can think of no more worthy candidate for the Sharon A. Ling award," he added.
"It truly is a pleasure to work with the people in MME and I'm grateful to be a member of this department," concluded Henry.
Western Engineering is thrilled to celebrate this outstanding achievement with Karen Henry and will honour her and other award recipients on May 26, 2022, at the Faculty, Staff and Alumni Awards Gala.