Chemical recycling program led by Paul Charpentier receives over $1.5M for NSERC Alliance-Mitacs Accelerate project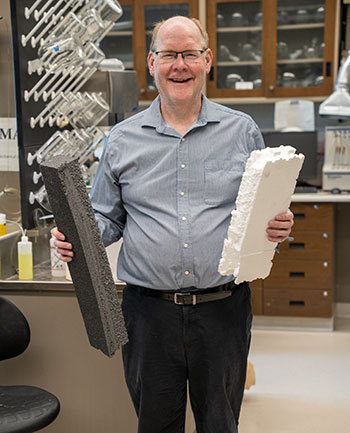 A research project led by Western Engineering professor Paul Charpentier has been awarded $1.15 million by the NSERC Alliance and Mitacs Accelerate grants program. This is the largest award to date that Western has received from this program. NSERC and Mitacs award these grants to fund research and provide opportunities for enriched training experiences.
Charpentier, in partnership with Aduro Clean Technologies, will lead a team of postdoctoral fellows, graduate students and undergraduate students to develop a process for environmentally responsible upcycling of diverse materials such as end-of-life plastics and tire rubber that are commonly incinerated or end up in landfills. With Aduro's support, the funding for this project will be more than $1.5 million.

The research team, which is also supported by Professor Cedric Briens, will evaluate the effects of contaminants present in plastic feedstocks under varying conditions to maximize output, quality, and yield. The project also aims to improve pre-and post-processing techniques. The commercial goal is to be able to develop strategies that will minimize the need for expensive sorting and separation systems for pre-processing treatment. 
"This project will help eliminate a current waste problem while providing a new cleantech solution and value chain for the Canadian economy," says Charpentier.
"And it will also support the advanced training of many students and post-doctoral fellows who will be the research and industry leaders of tomorrow in chemical recycling."