Alumna is inspired to help the next generation of engineers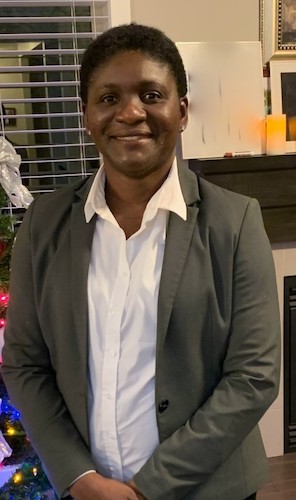 When Western Engineering alumna Monica Williams Ansah-Sam, MESc'04 was a little girl, she often visited her father at work. There, she interacted with several engineers, some of whom, were women. These female professionals inspired her to become an engineer and she hopes to inspire the next generation of engineers as well.     
We caught up with Ansah-Sam, Manager for Tailings and Dams at Vale to learn about her career and life experiences.  
What inspired you to pursue your Master's degree
and a career in Engineering?

 
I became interested in civil engineering because of the female engineers I met as a little girl. I could see myself represented and I want to show other young girls that they are represented too. My father always emphasized the importance of education so completing a master's degree felt like a natural step to continue developing as an engineer.
I was also inspired to take my master's as I progressed in my career. I realized that if I wanted to pursue leadership or managerial roles, I would need to develop my skill set. The master's degree at Western Engineering taught me how to navigate this male-dominated field and how to be successful with the managerial training I received. 
Can you provide a high-level overview of your career and tell us about your current role at Vale?
I started my career as a junior engineer in a consulting firm, where I stayed until I moved into an intermediate role.  When the metal prices collapsed in the Hard Rock Mining Industry, I left to explore opportunities in the Canadian Oil Sands Industry as a senior engineer for about thirteen years. I returned to the Hard Rock Mining Industry about a year ago and overall, it has been a rewarding career. Currently, my role at Vale consists of working with a group of amazing engineers and specialists to ensure the responsible tailings management of Vale's Tailings and Dam assets across Canada. 
Can you share special memories of your time at Western and how your Western degree in Geotechnical and Geoenvironmental Engineering has impacted you?

 
Special memories are rooted in the multi-cultural community environment I discovered when I arrived at Western and specifically, the support of the Ghanaian student community in London. My husband and I arrived in Canada about five months earlier and we instantly felt welcomed and a part of the community, due to the student community around us. My husband was also taking a master's program at the University of Waterloo and the community was always helpful when he was away. I also got a lot of support from my professor, Ernest Yanful. During my last year in my master's program, I was pregnant with my son and the engineering department was very supportive and accommodating as I completed my master's program.
What does it mean to you to be involved in the Black Alumni at Western Association (BAWA) and to give back?
I am happy for the opportunity to give back to Western and help make an even better experience for the next generation through BAWA. I personally had a wonderful experience attending Western however, I am aware that not all black students had the same experience. As the Vice-Chair of BAWA, I am driven and supportive of BAWA's recommendation for the University to address the thirteen action items to improve the experience of black students at Western.  This will place Western in a better position to showcase how the institution has moved forward in a changing world. The efforts of BAWA thus far, have been excellent however, we still need to identify and adapt to the changing needs of our current and future generations.  I truly believe we need to make sure everyone's experiences are not just like mine, but better than mine.
If you could go back in time and visit your younger self, what advice would you give yourself or to other aspiring Western Engineering students as they embark on their careers?
I would encourage myself and others to go into mining-related careers in engineering.  For individuals like myself who love challenges, a mining career path is a rewarding one.  I would also recommend mastering the technical aspects of engineering and building a solid foundation before moving into a leadership role. I believe a good place to start is with an engineering degree and your natural love to learn new things.
With about twenty
years of geotechnical and tailings engineering experience in Oil Sands and Hard Rock Mining, what are some of the biggest challenges you face in this industry and in your role today?
I have been in my current role for less than a year but earlier in my career, one of the biggest challenges I experienced was influencing decision-makers despite my technical ability. I always had to invest more energy than others to be listened to and have my ideas considered. However, my strong persistence, leadership skills, interpersonal skills, and technical competencies lead to the development of strong working relationships with management and my peers which built trust and credibility. I realized that building trust led to my ideas being seriously considered and often implemented when they were identified as the best technical solution for the design or the business at hand. 
Another challenge I found in my career was being acknowledged for all the effort and good work completed. I find that members of the industry (females included) tend to acknowledge men for their contributions more than women. This can be seen through industry conferences. The lack of gender diversity in keynote speakers at engineering conferences is sometimes disheartening. In addition, when you look at many independent geotechnical review boards in Canada and around the world, they tend to consist of all males with one female. Some men and women have done extremely well by advocating for more gender diversity however, statistics continue to indicate there is still more work to be done.