Alumna builds positive environments for others to thrive and succeed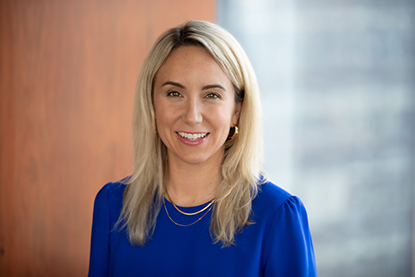 Every morning as Rebecca McKillican, BESc/HBA'03 starts the day, she asks herself if she's making a difference in the areas that matter most. The McKesson Canada CEO has earned many accolades and successes over the years and believes in a people-first approach to positively transforming the lives of others.    
McKillican, named Canada's Top 40 under 40, previously served as President and CEO of Well.ca, transforming it into a leading e-commerce health and wellness company which carries Canada's largest assortment of green and natural brands. Due to its success, the company was acquired by McKesson Canada, a Canadian healthcare services company where McKillican was asked to lead as President of Retail Solutions and later as CEO. 
"If it's not broken, break it beacause if you don't, you may be disrupted."
Known for driving operational improvements across company portfolios, McKillican is also passionate about creating space for engagement with customers, patients, and partners to improve care in every setting across Canada. During the COVID-19 pandemic, she led a task force which proactively stepped up to support both the federal and provincial governments in the distribution and administration of COVID-19 vaccines, actively mitigated global pharmaceutical supply chain disruptions, protected access to vital medications across the country, and acquired and distributed rapid test kits.
McKillican enjoys leading and energizing teams with the goal of delivering and advancing customer value propositions across the country. Her leadership style prioritizes customer feedback and value, through constantly disrupting themselves while using innovation and technology to enable their execution in a patient-first mindset. 
A proud Western Engineering graduate, we connected with her to learn more about her story and share advice for new alumni embarking on their career journey. 
Can you describe your current role and responsibilities as CEO of McKesson?
I am responsible for leading McKesson's portfolio of businesses in Canada including pharmaceutical distribution operations, McKesson Canada Specialty Health, McKesson's network of independent pharmacies comprised of I.D.A., Guardian, Remedy'sRx, The Medicine Shoppe, Uniprix, and Proxim, e-commerce retailer Well.ca, and Rexall Pharmacy Group.
We touch about 10,000 hospitals and pharmacies each day across all provinces and territories in delivering pharmaceuticals and we've worked with many different governments across the country through COVID in distributing COVID vaccines.
"Be kind always. You never know what others are carrying on their shoulders."
Being named Canada's 2021 New CEO of the Year by the Globe and Mail's Report on Business, what is your leadership mantra that attributes to your success, with now managing over 12,000 employees?
I believe that my job as a leader is to support and set our people and our teams up for success. If I can help create and drive an environment that enables others to be successful, then we're going to be successful. I have a very big focus on our high-performing teams and employee engagement as well as customer satisfaction.
So, if you can drive a high-performing team and engage teams, they in turn will drive positive experiences from customers and the cycle will repeat. Every day I focus on creating an environment that allows everyone to bring the best of themselves to work. This brings diverse perspectives which leads to better answers and more engaged teams.  
With COVID there were disruptions and disrupters within the industry. How has your Engineering degree helped you deal with changes and shifts within the health and wellness space to shape sustainable solutions in health care?
I think having an agile mindset - which is a framework I learned in software engineering - is beneficial.  Our environment is always changing and taking a waterfall approach is going to create complacency and will drastically reduce your speed. At Western, I had the opportunity of learning different approaches to development which play a critical role in my decision-making every day. Because of this, I constantly evaluate new information and how it will affect plans going forward.  
Through COVID, we continue to get new information daily and we have to adapt to keep our employees safe while delivering quality service to our customers. I truly think that as an organization, speed and agility are so important, especially in a large enterprise like ours. By nature of being a large enterprise, you are more challenged on speed and agility because you're managing more risk. I think that's something I've really taken from my engineering background along with a focus on problem-solving. 
What sparked your interest in pursuing Software Engineering at Western University?
I have always enjoyed thinking through how to effectively solve problems.. I knew through high school that I wanted to go into software engineering. One of the many areas I enjoy about software engineering is you're constantly building different algorithms in a unique way to solve problems.  There's an elegance to solving problems in a beautiful way and I loved the fact that I could combine my interest in problem-solving and software engineering which was a specialization that was only offered by Western University. 
Can you share how Western's Software Engineering and and Honors Business Administration  dual degree program influenced your career development?
I did the dual degree program and it gave me a very different mindset going into business that created a sense of 'discomfort' at first, but has made me a better leader. I found the business administration education helpful for looking at real-world problems and recognizing that there aren't always perfect ways to solve a problem. I enjoyed working in teams to solve problems and I found that my engineering background lent itself really well to different types of problems that we were solving, not in the absolute answer, but in the process to get there.
It brought diversity to my perspectives beyond what I would have gained through an engineering education. This has been very valuable to me as I continued to grow, and it also opened career opportunities because I can pair my engineering background with my business knowledge.
Do you have any advice for graduating engineering students embarking on their careers?
Have an open mind about where the road can take you. There are so many opportunities to apply what you've learned, and I think this will be important to you and your career going forward. There are engineers in a variety of industries who are engaged in various jobs. You can add tremendous value wherever you are so apply what you learn, believe in your abilities, and never stop being curious about the world around you.