Tutty receives Engineers Canada Gold Medal Student Award
Western Engineering News | June 28, 2021
Western Engineering's Matthew Tutty, who graduated this June with a combined degree in Chemical Engineering and Business Administration from Ivey Business School, is the 2021 recipient of the Engineers Canada Gold Medal Student Award.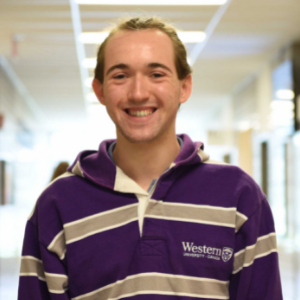 This award recognizes the exceptional achievements of undergraduate engineering students who have demonstrated leadership, resiliency, and had a positive impact in their engineering studies and their community.
"I am incredibly honoured to receive the Gold Medal Student Award from Engineers Canada," said Tutty. "It is a tremendous feeling to obtain recognition for doing what I love, and I am so grateful to Engineers Canada for supporting engineering students. This award is a testament to the fantastic mentorship at Western Engineering, in the student councils I have been a part of, and in my personal life."
Throughout his five years with Western, Tutty has been an inspiring student leader, taking on numerous leadership initiatives both within and outside of the Western community.
Tutty was elected as the 2019-2020 Undergraduate Engineering Society President, leading a 70-person council to develop solutions that worked for everyone. His involvement in the UES began in his first year, when he was elected as a first year representative. Tutty was appointed as Charity Commissioner in second year, and in his third year, he was elected Vice-President Social by the engineering student body, where he notably ran the largest Engineering Formal in recent history with over 600 in attendance. Tutty's work with the UES was recently recognized with the Western Engineering's Bizmo Award for Volunteerism.
Outside of academics, Tutty is passionate about music. He has been an ardent clarinet player since 2010, and played for the Western Mustang Band from 2016 to 2018.
Tutty is also an active member of Western EngiQueers, where he participated in a campaign to promote the involvement of LGBTQI+ students at Western University in leadership positions and student government.
In addition to his commitments to the Western community, Tutty is engaged with the Canadian Federation of Engineering Students (CFES) and the Engineering Student Societies of Ontario (ESSCO). He was Co-Chair for the 2019 CFES Conference on Diversity in Engineering, running a successful conference with over 170 delegates and over 30 speakers. And as CFES Corporate Relations Commissioner, Tutty renewed two partnership agreements, developed a new corporate partner, and designed and implemented a mentorship program with Engineers Canada.
"Matthew is an excellent role model, and I believe our faculty is very much the better for his being here," said Western Engineering Dean Ken Coley. "He embodies the values of the engineering profession not just by doing the right thing, but by inspiring others to do the right thing. Matthew's passion and leadership are more than evident in all that he does, and he is richly deserving of this award."