UGS Manager Clare Tattersall honoured for outstanding achievement
Western Engineering News | May 4, 2021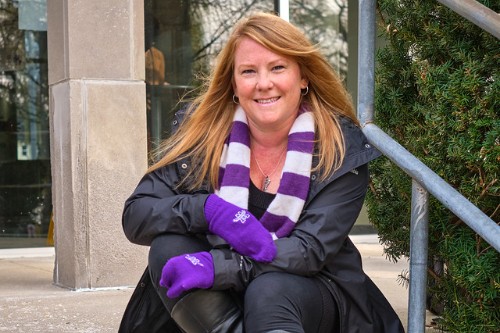 The Sharon A. Ling Award of Excellence for Outstanding Achievement by a Staff Member is presented annually to a Western Engineering employee to recognize their exceptional long-term contributions in support of the academic, research, innovation, public service or administrative missions of the Faculty of Engineering.
This year's recipient, Clare Tattersall, Manager, Undergraduate Services, received tremendous support from faculty, staff and students for being incredibly deserving of the award. Tattersall also received a 2020 Western Award of Excellence, which represents the highest level of campus-wide recognition for the exceptional performance of Western staff.
"I could not feel more blessed to be winning an award for having the privilege and pleasure of doing work that I love in a community of colleagues and students who fill every day with enjoyment, challenges, and discoveries," said Tattersall. "None of the work is easy, but it is all fulfilling. Getting to tackle the complexities of what I do with others who bring equal commitment, compassion, insight and talent, makes everything seem manageable, even in the most difficult times. I am filled with gratitude."
The mission of the Undergraduate Services office is to support the students, faculty, and administrative staff of Western Engineering in the pursuit of excellence in undergraduate learning and teaching.
In this area, Clare's impact cannot be overstated, says Jeff Wood, Associate Dean, Undergraduate Studies.
One of the greatest challenges that face undergraduate engineering educators today is the dramatic increase of mental heath-related issues among students — an issue of which Tattersall is very passionate. She has lead and implemented several initiatives to support students through their mental health journey and provide the resources needed.
Tattersall was commended by her team her for her passion towards student wellness, for her caring nature, and for her constant support of faculty, staff and students. 
"Clare champions Western Engineering's welcoming and inclusive environment by developing, leading, and fostering respectful relationships at all levels within the Faculty," says Abby Al-Takriti, Program Coordinator (Accreditation & Awards). "She has taken well more than her job entails to make sure students get the mental and academic support they need."
Western Engineering will honour the 2019/20 and 2020/21 award recipients at a virtual celebration on June 3, 2021.