El Ansary honoured for excellence in teaching
Western Engineering News | May 20, 2021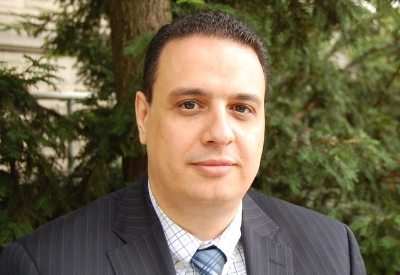 Civil and Environmental Engineering assistant professor and Associate Chair, Graduate Professional Programs Ayman El Ansary is this year's recipient of the R. Mohan Mathur Award for Excellence in Teaching. The award is presented annually to an outstanding Western Engineering faculty member to recognize their exceptional contributions to University teaching and the promotion of academic excellence amongst our students.
"I am pleased, honoured, and humbled to accept this award and to join past recipients who I admire and respect," said El Ansary. "It is a very special moment to be recognized for doing something that I really love to do and am passionate about. I want to thank my nominator, colleagues, current and former students. They are the reason why I enjoy my work so much and strive for excellence. This award is as much for them as for me."
During his first academic year teaching with Western Engineering (2014/15), El Ansary taught eight courses, five of which were for the first time. He also developed a new graduate course and managed a major transformation in the first-year course Engineering Statics, which led to a significant improvement of the course delivery in the common first year engineering.
On the graduate level, El Ansary has developed and taught CEE9512A – Finite Element Method (Theory and Applications). This course is very well received by students enrolled in the Master of Engineering (MEng) program, and is ranked among the top two courses in the program in terms of enrolment.
The positive impact El Ansary has on his students' confidence, skillset and learning outcomes is echoed through countless course evaluations, emails and conversations.
"Professor El Ansary's course taught me more than just the material required to succeed; I learned how to better problem solve and manage my time," said a former undergraduate student. "He showed me the importance of challenging my abilities and gave me confidence to succeed in the future."
"Dr. El Ansary has a great rapport with his students," noted a recent MEng graduate. "His ability to simplify difficult topics, as well as his willingness to assist students in times of need, makes Dr. El Ansary a truly outstanding instructor."
Ashraf El Damatty, Professor and Chair for the Department of Civil and Environmental Engineering, also emphasized El Ansary's dedication to mentorship, which is shown in his role as Associate Chair, Graduate Professional Programs, where he manages the demand of 110 MEng students.
"El Ansary meets with each new student in person to discuss their study plan, and meets with existing students on a regular basis to track their progress in the program and to accommodate any changes in their study plan," said El Damatty. "He always goes the extra mile to support MEng students who are close to completion, by advising them how to prepare their resume, apply for jobs, and register in the Engineering Intern program with Professional Engineers Ontario." 
Western Engineering congratulates El Ansary on this well deserved award and thanks him for his continuous efforts in supporting our students and their success.
Western Engineering will honour both the 2019/20 and 2020/21 award recipients at a virtual celebration on June 3, 2021.