Alumnus helps millions make memories with group video platform, Memento
Western Engineering News | November 9, 2021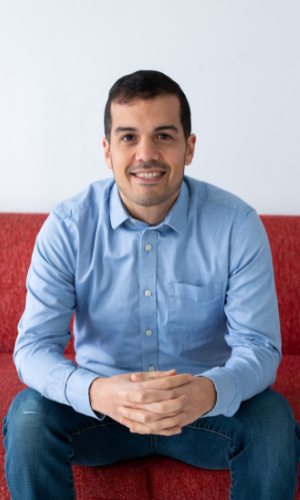 Zamir Khan, MESc '07, could have never anticipated that, what started out as a fun way to celebrate his mother's 70th birthday, would soon turn into a start up with over five million users from over 150 countries.
VidHug, now known as Memento, is a group video platform for sending greetings for celebrations, holidays, and milestones — helping anyone to easily create a surprise group video for a special occasion. 
Looking back on where the idea for Memento sparked from, Khan notes his mother, Corry, as being notoriously difficult to shop for. So, he and his siblings decided to go the sentimental-gift route by asking friends and family from all over the world to record and submit a video wishing Corry a happy birthday.
"As the resident techie of the family, I volunteered to take the lead," said Khan. "I thought about all the work that would need to happen, thinking to myself 'there has to be a website or app out there that does this for me.' But to my surprise, a Google search for helpful tools came up empty."
With a successful, emotion-filled birthday surprise behind him, and an obvious demand for these meaningful group videos, Khan set out to build an app. After a year of building, testing, and a successful private beta, VidHug was launched.
"Millions of people found and used the app to spread joy during the COVID-19 pandemic, when we all searched for ways to remain connected and celebrate one another while remaining at a distance," said Khan.
Fast forward to June 2021, and VidHug has since joined the family of brands under Massachusetts-based Punchbowl and was renamed Memento, where Khan still works as Vice President, Video.
Western Engineering caught up with Khan to learn more about his entrepreneurial drive, seek his advice for aspiring innovators, and have him reflect on his student experience.
---
Can you describe your Western Engineering experience and how your education benefited your career success with VidHug?
Following a Bachelor's in Computer Engineering, I arrived at Western for a Master's in Biomedical Engineering. My story to that point was one of coasting to good grades in high school, only to receive a prolonged wakeup call in the form of an intense and competitive undergraduate program.
At Western, the combination of graduate-level engineering courses with learning scientific research methods, all while being surrounded by some brilliant minds at the Robarts Research Institute, was a formative experience for me. Gaining expertise in the field of medical imaging was the expected outcome, but discovering that I could grasp complex concepts in a relatively short period of time and later help others to understand them as a teaching assistant, helped build up a confidence level that would help me for years to come, including a mid-career shift into entrepreneurship. 
What motivated you to become an entrepreneur?
One often reads about founders who were exposed to entrepreneurship early and often, or that it ran in their family. That was not the case for me. The expectation of me, by myself and others, was to get an education that led to a successful and "safe" career. And, while I did walk that path into my 30s, the desire for a more direct link between my performance and my success grew. To use a pair of clichés, I wanted more "skin in the game" and to 
"bet on myself". This desire is what led me to becoming a founder.
Being an entrepreneur, what has been the biggest barrier for you with VidHug's increased growth?
As a technical founder, spending time building a product is the (relatively) easy part. So easy that you risk neglecting more important tasks, such as marketing. One of the biggest challenges for any entrepreneur is identifying and prioritizing the most critical work to drive success, especially when some tasks seem more enjoyable than others.
What advice do you have for other Western engineers and students venturing out with new innovations?
There are a number of great local organizations that exist to support entrepreneurs and innovation. At Western, VidHug is a proud alum of the Morrissette Accelerator program, while WORLDiscoveries provided assistance with a prior venture. In London, both TechAlliance and the Roundhouse Accelerator played important roles in VidHug's journey. My advice? Being a founder can be a lonely pursuit at times; be sure to seek support and guidance from within your community.
What is your most memorable moment or inspiration while in the Western Engineering program?
Rather than a particular moment or accomplishment, the most memorable aspect of my time at Western Engineering is the people. I met mentors, made friendships, and established both personal and professional connections with students and faculty that last to this day. As a Londoner, I'm especially proud to have this lasting connection to Western.