Students place among top three at 2021 Ontario Engineering Competition
Western Engineering News | February 11, 2021
Multiple teams comprised of Western Engineering undergraduate students recently competed at the 42nd annual Ontario Engineering Competition (OEC) in its first ever online competition. This year's virtual event was co-hosted by Western and McMaster on the weekend of January 23-24, 2021.
OEC is an annual competition that brings together Ontario's brightest students to participate in challenging case studies that pertain to real-world issues. The theme for this year's competition was Opportunist. 
Hosted by a provincial school, OEC invites all engineering schools across the province to compete in one of eight categories: Junior Design, Senior Design, Innovation, Communication, Programming, Debate, Consulting and Re-Engineering. The top two teams in each category will advance to the Canadian Engineering Competition (CEC), held February 26-28, 2021, and hosted by the University of New Brunswick.
---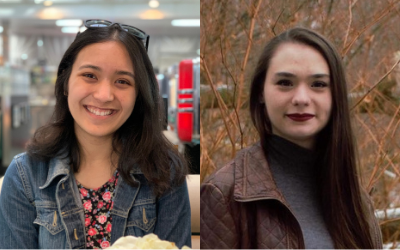 Winning second place in Communications against eight other teams were Western Engineering students Priya Shrestha (5th-year Green Process Engineering), and Sarah From (5th-year Biochemical Engineering).
Shrestha and From presented a solution to municipal food waste disposal and recommended the use of anaerobic digestion and biogas upgrading to produce renewable natural gas and digestate.
"The renewable natural gas would be pipeline-grade so it could be injected into the gas grid to heat our homes, and the digestate can be used as a soil amendment to help our crops grow," explained Shrestha. "This contributes to a circular economy since we're designing out waste to fuel a carbon neutral process."
OEC required presenters to describe the technology in terms that the general public could understand, as well as its social, economic, environmental, and political impacts. 
"We're so glad we participated in the Western Engineering Competition (WEC) and advanced to OEC, and we're excited to represent Western again at CEC!" said Shrestha. "These competitions have been a great opportunity for us to take the technical knowledge we've been diving deep into through our capstone design project and make it digestible to the everyday person — pun intended."
From added that she is both excited and nervous heading into CEC.
"I think I'm one of the few people who enjoys public speaking, but the stakes got so high so fast," said From. "It seems like this whole competition chain has happened so quickly, and it feels surreal that we will be competing against teams from all across Canada."
---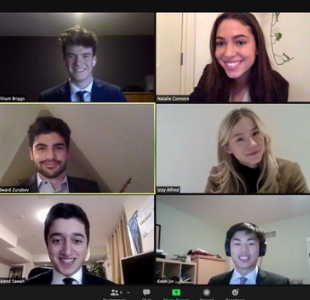 Placing third in Innovative Design were Western Engineering students Izzy Alfred (2nd-year Software Engineering), Liam Briggs (2nd-year Software Engineering), Natalie Connors (2nd-year Chemical Engineering), Keon Jin (2nd-year Software Engineering), Waleed Sawan (2nd-year Software Engineering), and Edward Zurabov (2nd-year Software Engineering).
The team presented on their two-way communication system, We-Sign, which aids in addressing the issues many individuals in the hearing-impaired community face. We-Sign creates a seamless interaction between those with hearing impairments and those without through the use of image processing (e.g. hand detection, background subtraction, etc.) and machine learning.
Western Engineering is extremely proud of its students and their successes at OEC, and wishes Shrestha and From all the best as they prepare to represent Western University at CEC 2021.