Engineering Process Success: Renix founder shares her entrepreneurial journey
Western Engineering News | January 28, 2021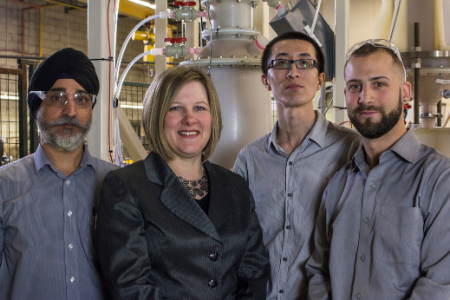 To meet the world's exploding demand for resources, it is imperative for companies to access new ways to process the materials we use every day — from the food we eat and the beverages we drink, to the water we release into our environment.
Addressing these ongoing demands, Western Engineering alumna Christine Haas, BESc'93, founded liquid purification business Renix and has served as its president for the past 12 years.
Renix uses its proprietary technology (RenixUIXTM) to solve complex separation problems for resource processors and to purify materials used in business sectors such as agri-food (food and beverage ingredients), resources (metals and minerals, fuel and chemicals), and industrial water management.
In our latest Q&A, Haas shares her experience as an entrepreneur, provides some advice for the next generation of leaders in engineering and entrepreneurism, and looks ahead at next steps for Renix.
What inspired you to become an entrepreneur?
I've been fortunate to have a very diverse career. Life events often drive decisions that might seem difficult at the time, but, in my personal experience, it gave me the opportunity to learn a lot of different things. I worked for large multinationals in consumer products and dosage-form pharmaceuticals, a mid-sized Canadian engineering firm in plant automation, and had a sole proprietorship doing operations consulting before becoming an entrepreneur.
I am a bit of an accidental entrepreneur. In my consulting role, I began to feel that I was advising others to do things but was not doing them myself. So when the opportunity presented itself to commercialize a new engineering technology and create a start-up company, I took the leap.
How has your engineering education benefitted your career success?
Engineering offers me a great blend of practical science and analytical thinking that I really enjoy — it suits me well. I think of myself as a problem-solver. Throughout my career, there was always a significant aspect of "figure out what is going on" and then "figure out what could be done differently." Whether I look at a piece of equipment, a control program, a business process, or an organizational structure, I find that I am always analyzing and always looking for ways to make things better, faster, simpler or more efficient. Before founding Renix I did consulting on operational integration — finding the right combination of people, process, and technology to generate value for a company.
What advice or lesson learned would you give the next generation of young leaders entering the field of engineering and entrepreneurism?
I think one of the universal skillsets that everyone needs to have is communication — written, verbal, social, and now electronic. I was fortunate early in my career to spend a lot of time writing and a lot of time working with diverse teams from brand management to plant operations. I didn't realize at the time how important that was. Engineering requires a lot of technical skill, and that has to be the foundation. However, without the ability to communicate and sell ideas, explain why they are important and valuable, it can be difficult to accomplish what you want to do. I'm still learning this lesson.
As far as entrepreneurship goes, there is a lot to be learned about business and running a business, and I think it's great that Western Engineering and the Ivey Business School are offering more overlap today. I learned a lot through "the school of hard knocks" and learned to embrace my favorite 'R' words — resilience, resourcefulness, realism. Entrepreneurship is a very rewarding experience that has allowed me the chance to consolidate all my different experiences and learnings into one place.  
With COVID-19, how have you adapted? And do you see any major shifts or trends happening locally or globally in engineering?
Public-facing businesses probably experienced a more significant impact, but as with every company on the planet, we were impacted by COVID-19 - staffing impacts, procedural impacts, and really major supply chain impacts. An example was in a particular type of plastic we use for components. There are only two plants in the world that make that plastic and they both shut down completely for more than three months in early 2020. We tried buying from all over the world, but there was simply no way to source what we needed. That had a massive impact on our project timeline. On the plus side, we did what engineers do: find a way to solve the problem. I'm sure companies have hundreds of stories like that. Once the immediate-term danger of COVID-19 has receded, I think there will be a lot of opportunity for manufacturing and engineering to look at some of the things COVID-19 brought to light and develop new solutions.
What are some next big steps for Renix?
At the end of 2019, Renix sold the first full-scale commercial equipment to a food processing company in the United States. This was a major milestone for us. We spent several years taking an engineering concept from the lab bench through three stages of scale-up, automation, and customer validation. Despite major COVID-19 impacts on supply chain and staffing, we built that system and delivered it in 2020, and it is in final commissioning now. Coming out of that, we are entering a new level of company acceleration with our focus on marketing, sales, and customer acquisition. COVID-19 slowed down customer decision-making as companies were busy dealing with their immediate needs and waiting to see how things would shake out. However, in the food business, which is one of our key markets, there is a lot of demand, and we are very excited about next steps in 2021.