Bridgit COO challenges the status quo
Western Engineering News | March 8, 2021 
---
"Let the 'you can't' statements be the kindling you add to fuel the fire in your belly."
– Lauren Lake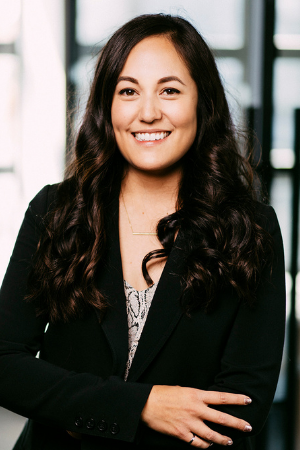 Western Engineering alumna, COO and Co-founder of Bridgit, Lauren Lake, BESc'13, served as the distinguished guest speaker at Western Engineering's 30th Annual Lynda Shaw Memorial Lecture on March 4, 2021. The Lynda Shaw Memorial Lecture Series was established in memory of Lynda Shaw, a third-year mechanical engineering student at Western who was murdered near Highway 401 in 1990.
In an early celebration of International Women's Day (IWD) on March 8, Lake based her talk on this year's IWD theme, Choose to Challenge, which promotes the message that a challenged world is an alert world.
Lake has been challenging the status quo since joining forces with Bridgit Co-founder Mallorie Brodie, HBA'13, as they built their now 70-person, multimillion-dollar construction software company, based in Kitchener, ON.
Lake's talk told the story of Bridgit, highlighting five "Choose to Challenge" moments, which were the top barriers that Lake and Brodie faced when they started their new business.
The construction industry is too old-school to use new technology.
You can't start a tech business without a software background.
"You don't fit the pattern." Only 2% of venture capital funding goes to women-founded business.
You can't compete against the multibillion-dollar American competitors.
It's too risky to pivot away from something that is working.
In the face of these significant challenges to success, Lake and Brodie persevered and prospered, working hard to overcome each hurdle they confronted.
In its early days, Bridgit built a sales-focused culture to gain revenue, making hundreds of calls a day to find the right customers and eventually landing deals with investors. Fast-forward to today, and Bridgit has raised over $20 million in venture capital and has been named one of the Globe and Mail's fastest growing companies, two years in a row.
Two of the company's biggest competitors — Autodesk and Procore — are now Bridgit's biggest allies, with Autodesk acting as an investor and Procore serving as a major channel for Bridgit's incoming business.
"Thinking back on these challenges, when all is said and done, there's always a silver lining to what is viewed negatively at first," said Lake. "This has shown itself in the way we've built our team and the way we've cultured diversity at Bridgit."
Since Lake and Brodie didn't fit the mould of typical tech founders, they never expected their employees to do so either. By hiring employees based on the core traits of work ethic, ability to learn quickly, and resourcefulness, Bridgit was able to attract people who delivered a variety of perspectives and represented different genders, cultures, and educational backgrounds.
"Bridgit is at the intersection of two male-dominated industries — construction and tech — yet, Bridgit has achieved staggering gender diversity that is unheard of in the tech industry," said Lake.
On Bridgit's team of 70+ employees, women represent 50% of its board members, 60% of its leadership, and 47% overall.
Lake notes that the barriers have always added fuel to her fire.
"Rather than taking us down, [the challenges] only ever amped us up. What gets me up in the morning is this deep-seated desire to prove the naysayers wrong, and that has allowed us to persevere through these challenges."
Lake closed her talk by sharing her ultimate goal to challenge the status quo: One day, can Bridgit help change the patterns that investors are looking for?
"I would love to see, 10 years down the road, that if two young females walk into an investor's office and pitch their business, that investor could say, 'Those two remind me of Bridgit, and I'm going to take that bet because I saw how Bridgit evolved.'"