Yeznabad receives 2020 Canadian Dam Association Graduate Student Award of Merit
Western Engineering News | September 8, 2020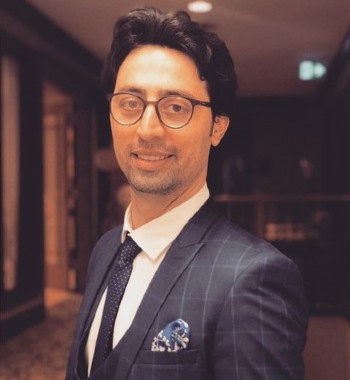 Western Engineering PhD candidate Ali Fallah Yeznabad is the first student from Western University to be recognized by the Canadian Dam Association for his outstanding research efforts. 
Each year, the Canadian Dam Association (CDA) offers two scholarships to graduate students attending a Canadian university or college whose program of study focuses on dam safety and the management of dams. Due to Yeznabad's high quality submission for the CDA Scholarship Awards, he was placed in the top four submissions across Canada and received a special inaugural award – The CDA Graduate Student Award of Merit. 
In 2016, Yeznabad made the life changing decision to move from his home in Iran to pursue his PhD in Geotechnical and Geoenvironmental Engineering here at Western University. After just receiving his MSc in Geotechnical Engineering from the Iran University of Science and Technology, Yeznabad was looking to study abroad and was intrigued by Canada's diverse and kind people. During his studies in Iran, Yeznabad became aware of Western Engineering professor Hesham El Naggar and his team's renowned geotechnical research. After multiple interviews and calls with El Naggar's team, Yeznabad decided to come to Western Engineering.
Yeznabad and his research group are working on the "Metro Vancouver Microzonarion", funded by EMBC and ICLR, which evaluate different hazards associated with ground shakings in Greater Vancouver, BC. His research looks at seismic hazards for slopes and earth-filled dams and whether the sloping grounds and dams will be safe during earthquakes.
"Our project is meant to help emergency planners to build safer and more resilient cities and structures against earthquakes," said Yeznabad. "It makes me genuinely honored to be a member of a group with incredible supervisors and teammates who serve to protect people's lives in Canada."
Yeznabad went on to express his sincere gratitude for his community away from home who have supported him and stood by him, particularly earlier this year, as the Western community mourned the tragic loss of fellow students and friends aboard Flight PS752.
"I feel that I owe a lot to these people, and working hard on my research project is the way I want to honor my friends," said Yeznabad. "It is also an incredible pleasure to share this recognition with my parents and loved ones from back home in Iran who are always looking forward to hearing encouraging news from me here in Canada."
Western Engineering congratulates Yeznabad on this unique recognition from the CDA and looks forward to watching his continued success and growth in advancing dam-related research.
For more information on Yeznabad's research, visit https://metrovanmicromap.ca/.