Undergraduate Summer Research Awards support real-world learning
This article was originally posted in Western's 2020 Annual Impact issue.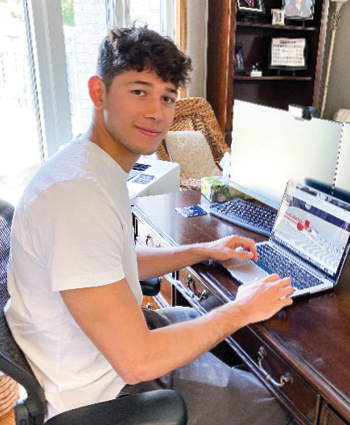 Civil Engineering student Lucas Capretz spent his summer using a virtual world to understand real-life problems.
The fourth-year undergraduate student used what are called "digital twin cities" – exact digital replicas of real cities to investigate things like air movement and pedestrian traffic inside buildings and urban environments. The work could help better understand how things like pollution and viruses spread, and what could be done to stop it.
"It was really interesting," Capretz said. "By studying traffic patterns in a building, you can find ways to make spaces less congested in the future. You can see the direction of airflow in hallways and use that to plan for alternate layouts with more open spaces and less constricted hallways."
In a world with COVID-19 still ever-present, it is timely work.
It was made possible by the Lassonde Family Foundation which, in Spring 2020, made a $20,000 gift to support summer research internships for four Western engineering students. Through the gift, Capretz and three other students were given the chance to conduct their own research under the supervision of a faculty member, developing valuable skills for their future careers. Capretz worked with Professor Girma Bitsuamlak, associate director of Western's WindEEE Research Institute and Canada Research Chair in Wind Engineering. "It was great seeing how his team worked," Capretz said. "Each week someone presented their research and the team asked questions, critiqued and found ways to help if they were stuck. I got to see all the research possibilities that exist ahead, beyond undergrad."
During COVID-19, many student summer employment opportunities were lost. The Foundation's gift helped ensure students like Capretz had educational opportunities, and a summer job – making the learning experiences all the more meaningful. "I'm so thankful I was able to do this," he said. "This opportunity allowed me to take the first steps into conducting my own engineering research and gave me a greater appetite for pursuing my postgraduate degree."
---
Interested in learning how you can support student awards at Western Engineering? Please contact Virginia Daugharty
at 
vdaughar@uwo.ca
 or 519-661-4209.