Floryan inducted into Canadian Academy of Engineering
Western Engineering News | June 15, 2020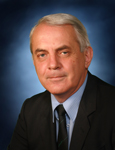 On June 15, 2020, Mechanical and Materials Engineering Professor Jerzy Floryan was among the 52 new Fellows inducted into the Canadian Academy of Engineering (CAE).
The announcement is in conjunction with the Academy's 2020 Annual General Meeting which was held by video conference due to the circumstances surrounding COVID-19. The Induction Ceremony, which will honor both the 2020 and 2021 elected Fellows, has been postponed to June 2021, and will be held in Halifax, Nova Scotia.
President Yves Beauchamp commented: "Over the past 33 years, Fellows of the Academy have provided engineering leadership in the fields of education, infrastructure, innovation and many more. We expect the new Fellows to expand upon these contributions to the prosperity, well-being and sustainability of Canada and its people. The new Fellows apply engineering principles from widely varying backgrounds, from Industry, Academe and Government, but they all have in common the demonstrated desire and ability to go beyond the normal practice of engineering and serve as role models in their fields and to their communities."
Floryan is a distinguished scholar working in fluid mechanics with a wide range of pioneering research, e.g. laminar flow airfoils, crystal growth, spray formation using electric fields, drag reducing surfaces, structured convection, patterns in flow control, chaotic mixing, immersed boundary conditions method, generalization of stability theory. He is the author/co-author of 150 journal papers and 300 conference contributions. He received major awards from Germany, France, US, Singapore, Japan, China, Poland, and Israel. He served as chair of his academic department, CSME President, and Canadian representative to IUTAM. He is a Fellow of APS, ASME, CSME, CASI, JSPS, NATO, and EIC. 
Western Engineering is extremely proud of Dr. Jerzy Floryan, and congratulates him on the great honour of being inducted into CAE.
---
At the Canadian Academy of Engineering's annual meeting on June 15, Western's Chemical and Biochemical Engineering Professor Jesse Zhu, was elected into the Board of Directors. The 14 member board is the governing body of the academy. 
Professor Zhu is a Fellow of the Canadian Academy of Engineering (CAE) since 2008, and has been very active in CAE's professional activities including serving on its International Committee, Fellowship Committee etc. He has also successfully nominated several Western colleagues into the CAE fellowship. Zhu is also a Fellow of Royal Society of Canada.
---
The Canadian Academy of Engineering is the national institution through which Canada's most distinguished and experienced engineers provide strategic advice on matters of critical importance to Canada. The CAE is an independent, self-governing and non-profit organization established in 1987. Members of the CAE are nominated and elected by their peers to Fellowships, in view of their distinguished achievements and career-long service to the engineering profession. Fellows of the Canadian Academy of Engineering are committed to ensuring that Canada's engineering expertise is applied to the benefit of all Canadians.
CAE works in close cooperation with other senior academies in Canada and internationally. It is a founding member of the Council of Canadian Academies, along with the Royal Society of Canada and the Canadian Academy of Health Sciences. The CAE is also a member of the International Council of Academies of Engineering and Technological Sciences, which includes some 26 similar national bodies around the world.