Tutunea-Fatan honoured for Excellence in Teaching
Western Engineering News | May 11, 2020
Mechanical and Materials Engineering (MME) professor Remus Tutunea-Fatan is this year's recipient of the R. Mohan Mathur Award for Excellence in Teaching. The award is presented annually to an outstanding Western Engineering faculty member to recognize their exceptional contributions to University teaching and the promotion of academic excellence amongst our students.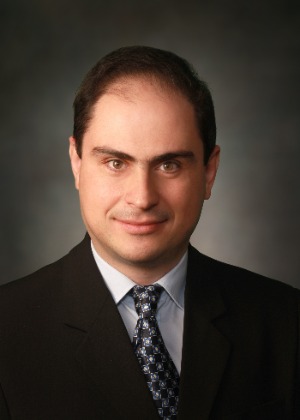 This year's award holds a special significance, honouring the late Radhey Mohan Mathur who passed away peacefully in British Columbia, Canada on February 6th, 2020. Mathur, former Western Engineering Dean (1987-1999) and nationally renowned electrical engineer, had recently joined the Order of Canada for his outstanding contributions to engineering. He lived a life full of passion with purpose, respect, integrity, and enthusiasm that serve as an inspiration to all the lives he touched.
"I am both honored and humbled by the award received," said Tutunea-Fatan. "I believe that one of our main roles as academics is to remain the catalysts of this difficult activity pursued by our students. Beyond that, engineering was and will likely remain a team sport, and this is why I would like to thank all those who have helped me on my less-than-linear journey towards this award." 
Tutunea-Fatan also serves as Associate Chair Undergraduate for MME, where he's played a key role in the counseling of undergraduate students as they make their way through their academic career. To date, his classroom instruction efforts have been devoted to a 3rd-year core course in Kinematics & Dynamics of Machines, 4th-year electives in Reverse Engineering and Advanced CAE, and graduate classes in Computer-Aided Design and Manufacturing.
The following are just a couple examples of the positive feedback Tutunea-Fatan has received from his students, admiring him for his consistent care and support of his students' success:
"Professor Tutunea-Fatan is a selfless teacher who places the wellbeing and success of his students at the top of his priority list and is a true inspiration for what it means to be a successful engineer. My greatest thanks and appreciation for your teaching of this course and for your continual efforts to improve mechanical engineering at Western."
"I only have good things to say about this course and professor Tutunea–Fatan. Everything is taught with a good structure, and there are plenty of opportunities to test our knowledge and apply our learning. Professor Tutunea–Fatan truly cares about the students and our success, and he always makes himself available to help us and really tries to make sure we understand the concepts. He is an amazing professor and I am lucky to have been taught by him."
Since July 2016, Professor and Chair of the Department of Mechanical and Materials Engineering Tony Straatman has worked closely with Tutunea-Fatan in all aspects of the MME undergraduate program and has seen firsthand how seamlessly Tutunea-Fatan works with faculty, staff and students.
"Professor Tutunea-Fatan is an innovative teacher and administrator, and highly regarded by faculty members and staff in MME," said Straatman. "He is passionate and enthusiastic, kind and warm-hearted. I cannot think of a more deserving recipient of the R. Mohan Mathur Award for Excellence in Teaching."