Professor Charles Xu honoured for Excellence in Research
Western Engineering News | May 4, 2020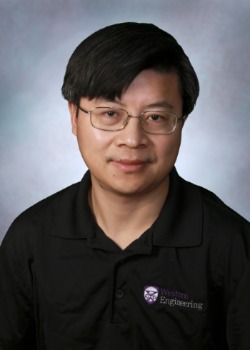 Each year, Western Engineering presents a faculty member with the Engineering Award for Excellence in Research to recognize their outstanding research contributions. This year's recipient is Chemical and Biochemical Engineering professor Charles Xu, who has been recognized for his research contributions in producing bio-based chemicals and materials from renewable resources. 
"I'm truly honored to be the recipient of the 2019 Engineering Award for Excellence in Research," said Xu. 
Xu joined Western as an NSERC/FPInnovations Industrial Research Chair (IRC) in Forest Biorefinery in May 2011. Since joining Western, Xu has made extraordinary contributions in research, particularly in building an internationally recognized program in forest biorefinery to convert forest biomass residues and by-products into biofuels, bio‐based chemicals and materials.
Letters of support for Xu's nomination from colleagues touted Xu for his creativity and dedication to his work.
"Professor Xu is a very active researcher, and can be viewed as an emerging star in the area of biomass thermochemical conversion, bio-product development and green engineering," said colleague Honghi Tran, Director of the Pulp & Paper Centre at the University of Toronto. "His research program is also very timely and critical for the future sustainability in the Forest Industry sector."
Within the past eight years, Xu's work with Western Engineering has attracted nearly $8 million in research funding, leading to more than 20 invention disclosures and 10 PCT/US/Canadian/Chinese patents pending or issued, five of which have been licensed to industries for practice and commercialization.
Xu's research has resulted in publications of more than 210 refereed journal articles, 160 conference papers (presentations, seminars), two books in biorefinery, and he was invited to contribute over 20 book chapters. To date, Xu's publications received 8600+ total citations with an H-index of 50. As well, Xu is among the world's top-most cited researchers in the areas of biorefinery (12th), bio-energy (3rd), and bio-based chemicals (1st) according to Google Scholar.
In April 2018, Xu was elected Fellow of the Chemical Institute of Canada (FCIC), and in June 2019, he was elected Fellow of the Canadian Academy of Engineering (FCAE). More recently, Xu received the prestigious 2019 Bantrel Award in Design and Industrial Practice from the Chemical Institute of Canada (CIC).
"In just eight years with us here at Western Engineering, Professor Xu has already achieved something that many other academic members do not achieve in their whole career," said Ajay Ray, Professor and Chair of the Department of Chemical and Biochemical Engineering. "He's been recognized externally for his outstanding research contributions, and now we have the honour of recognizing Professor Xu internally."