Alumna eases customers' transition to working from home
Western Engineering News | May 13, 2020
As our campus community continues to support the fight against COVID-19 and encourage one another through these challenging times, we know our alumni are doing the same in their own communities.
That's why Western Engineering reached out to its alumni to say, "We want to share your story."
We received responses from alumni in a variety of careers who are contributing to their communities amidst COVID-19 in a variety of ways. Over the next few weeks, we'll be sharing their stories.
---
A Statistics Canada survey conducted during the week of March 22, 2020, reveals that 4.7 million Canadians recently started to work from home in response to the COVID-19 pandemic.
With nearly five million people nationwide making the transition from office life to working from home, there are likely to be some obstacles along the way.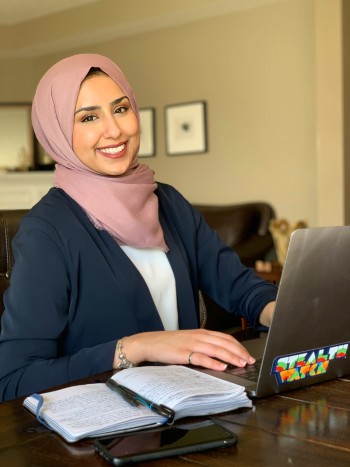 That's where Western Engineering alumna Nour Zourob, BESc'18 Electrical Engineering, and her team at Cisco come in. As a worldwide leader in IT and networking, Cisco develops, manufactures and sells networking hardware, software, telecommunications equipment and other high-technology services and products.
As Cisco's customers move their employees to a work-from-home environment, Zourob's team aims to equip these workers with the right technology to make the transition as seamless as possible.
"As a systems engineer, I design technical solutions ranging from networking, data centres, collaboration, security, and IoT for customers in different industries, such as manufacturing, services, and retail," said Zourob.
To support customers during the COVID-19 crisis, Cisco now offers a free teleconferencing solution called WebEx. WebEx provides at-home workers with the tools to run any virtual meeting, whether it's a planned global event across the organization, an on-boarding training session for new employees, or a spontaneous coffee chat with fellow colleagues.
"In terms of security, our focus lies in our cloud-based solutions," said Zourob. "Security solutions are available temporarily for free to allow our customers to perform their jobs remotely, without compromising security."
When Zourob isn't designing technical solutions at work, she spends time volunteering with HeyCOVID19, a Canadian-based platform that engages youth by providing accurate and shareable COVID-19 content in 20+ languages.
"I was able to volunteer remotely as a translator to make content available in Arabic," said Zourob. "I got the chance to take time off work to volunteer by participating in Cisco's Time2Give program, which provides employees with five days every year to volunteer for an organization or a charity of their choosing."
Zourob noted that, this year, Cisco increased Time2Give to 10 days in order to empower its employees to give back to the community during these difficult times.
In addition to donating conferencing devices to front-line workers, Cisco has committed $225 million to the global COVID-19 response.
Zourob expressed her gratitude for Cisco's numerous efforts during the pandemic and for creating a workplace culture that not only encourages employees to give back to the community, but also allows them flexibility in terms of the time required to make that contribution happen.
"I am inspired to give my best every day by helping businesses continue to successfully serve their customers and by helping our communities in every way possible," said Zourob.
To learn more about Cisco's contributions towards COVID-19 relief, visit blogs.cisco.com.