Alumna adjusts leadership for today's changing world
Western Engineering News | November 27, 2020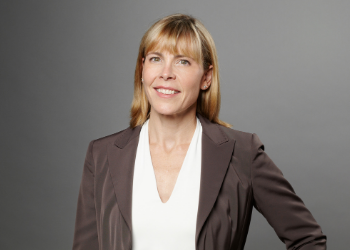 Holding a position of leadership during COVID-19 has meant, for many, having to adapt their leadership styles. Never before have resiliency, transparency and communication been more crucial for today's leaders.
Western Engineering alumna Regan Stewart, BESc'94, has held multiple positions of leadership over the past two decades, with experience in manufacturing, supply chain and HR. Stewart now leads a team that encompasses all three areas of business, serving as Chief Operations and People Officer for Jamieson Wellness — Canada's leading branded manufacturer, distributor and marketer of high-quality natural health products.
We connected with Stewart to discover how COVID-19 has impacted Jamieson Wellness, how she has in turn adapted her leadership style, and how her career has prepared her for the position she currently holds.
Can you discuss your current leadership role with Jamieson Wellness?
As a member of the senior leadership team, I'm responsible for all of aspects of Human Resources, Supply Chain and Manufacturing. My team ensures that we manufacture and deliver high quality vitamins, minerals and other supplements to our customers.
How have you had to adjust your role in response to COVID-19?
I've always had a servant leadership style, where I put our people first, setting direction and then enabling them to lead their teams. I've found through the pandemic that I've had to be much more visible, interacting with our manufacturing teams, seeking their feedback and answering questions in order to create a safe environment and manage anxiety levels. Communication has been incredibly important. There was and continues to be so much uncertainty, and we don't have all the answers, but in an environment like this, you need to be constantly communicating.
How has COVID-19 affected your organization?
I think it's made our organization even stronger. Throughout the pandemic, we've lived our values, particularly with respect to open transparent communication and teamwork. We've faced significant challenges that many of us never thought we would see in our careers.
Our people have shown incredible resiliency and support for one another. I've seen tremendous growth in our leaders as they navigated through these issues, solving problems and leading their teams.
At the beginning of the pandemic, within days we had to mobilize our workforce to enable people to work from home and transform our factory environments to ensure the safety of our operators. The health and safety of our people is always our top priority.
Can you provide an overview of your career that led you to where you are today?
I started out designing and building mechanical systems, HVAC, plumbing and drainage, and fire protection for large commercial and industrial buildings. I've actually used my stamp. I enjoyed that work but wanted to move into manufacturing.
While doing my MBA part-time, I progressed through a variety of manufacturing roles, from process design, maintenance and plant leadership. Through these roles, I found that the key to success was all around people. If I engaged the operators at the onset of a project, soliciting their ideas and incorporating them, we were far more successful because people embraced and supported the change. I developed a strong interest in organizational behaviour and development, which I focused on in my MBA.
While working at Maple Leaf Foods, I had the opportunity to lead the integration of the HR functions of a large acquisition. We focused on bringing the cultures together and on engagement and retention, to ensure we maximized the benefits of the integration. I enjoyed it so much that I took on an HR leadership role after the project ended.
Now, I'm very fortunate at Jamieson to be able to lead all the areas of the business that I'm most passionate about — manufacturing, supply chain and HR.
What sparked your interest in engineering?
I was always strong in math and science and enjoyed problem solving. I didn't really know what engineers actually did in practice when I applied to engineering programs. I was interested in learning more about applying math and science to solve real life problems.
How has your engineering education benefitted your career success?
It taught me a variety of methods and disciplines to define and solve problems related to practical engineering challenges, but I now also apply them to business operation and leadership. My education helped me develop my critical reasoning skills and my curiosity. Being curious about how things work drives continuous improvement. I think it has made me a lifelong learner.