Lynda Shaw Memorial Lecture addresses support for women in male dominated fields
Western Engineering News | March 26, 2019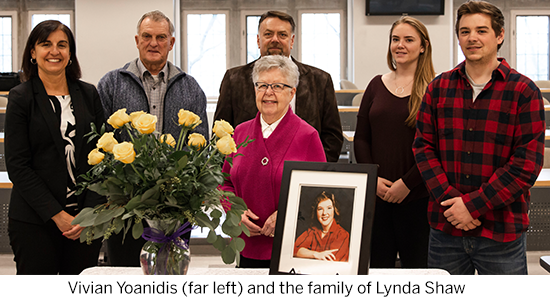 "Stand up if you have ever experienced discrimination in pursuing Engineering because of your gender."
Vivian Yoanidis, Director of Diversity and Inclusion at Hydro One and guest lecturer for Western Engineering's 28th annual Lynda Shaw Memorial Lecture, opened her discussion with several eye-opening questions concerning gender diversity in engineering that left over a dozen women in the room standing.
Throughout her lecture, Yoanidis cited several statistics from Catalyst, McKinsey, the Centre for Creative Leadership that build the case for why gender diversity in STEM fields is critical:
Having a higher percentage of female talent in an organization predicts less burnout and higher levels of job satisfaction, dedication, engagement and meaningful work.
Gender diverse teams and business units have higher revenues and profits compared to male dominated teams.
Tech companies and departments with gender diversity are more likely to stay on schedule, under budget, and have improved employee performance.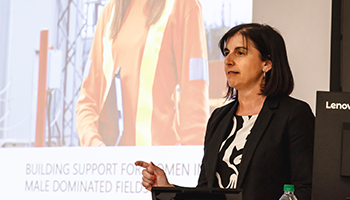 "It is evident that gender diversity in the workplace is imperative to business, and that is why it is so important to attract and retain more women in STEM related programs at colleges and universities that can then enter STEM related careers," said Yoanidis. "Without a sufficient pipeline entering STEM, staying in STEM and graduating from STEM, we will never be able to encourage more women to pursue STEM careers."
To address the issue of gender diversity in STEM, Hydro One created the Women in Engineering Partnership with Western, Ryerson, Waterloo and UoIT. Over the past six years, the Partnership has focused on inspiring young women to take STEM subjects in high school and pursue STEM disciplines in university. Hydro One's Women in Engineering Partnership has trained over 900 elementary school teachers on its STEM-focused curriculum through its WEMADEIT initiative and reached close to 30,000 elementary students.
These challenges, however, cannot be overcome by women alone. Hydro One recently joined the network Men Advocating Real Change, comprised of male allies who are passionate about supporting gender parity in the workplace.
"If we do not engage our men in this business imperative, which is truly a societal issue and not simply a gender issue, we will not see any improvement," said Yoanidis. "I believe it is critical to tap into male professors and male students who can champion diversity and inclusion, act as allies and support women in STEM."
One of the main goals of Men Advocating Real Change is to remove the stigma of parental leave. Hydro One wants to empower men to step up and take on more child rearing responsibilities and create a culture that allows men to do this without feeling lesser.
Yoanidis closed her talk with a call to action to any and every one in the education system or a male dominated industry.
"We have a role to play in removing systemic barriers that women in male dominated fields face. We need to raise awareness of unconscious bias and encourage our leaders to hire more women, because a gender diverse company is a more engaged, safe, innovative and profitable one. We need to do our part in mentoring and sponsoring up-and-coming female engineering talent."
To learn more about Hydro One's initiatives to support women in STEM, visit hydroone.com/wtte.
Read the Media Planet editorial sponsored by Hydro One on building support for women in male dominated industries.