Students place among top three at 2019 Ontario Engineering Competition
Western Engineering News | January 24, 2019
Multiple teams comprised of Western Engineering undergraduate students competed at the 2019 Ontario Engineering Competition (OEC), hosted at McMaster University on the weekend of January 18-20, 2019.
OEC is an annual competition that brings together Ontario's brightest students to participate in challenging case studies that pertain to real-world issues. The theme for this year's competition was Urban Development.
Hosted by a provincial school, OEC invites all engineering schools across the province to attend and compete in one of eight categories: Junior Design, Senior Design, Innovation, Communication, Programming, Debate, Consulting and Re-Engineering. The top two teams in each category advance to the Canadian Engineering Competition (CEC), held March 1-3, 2019, at the University of Waterloo.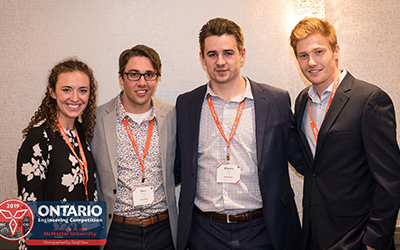 Winning second place in Consulting against 12 other teams, representing 11 universities across Ontario, were Western Engineering students Bridget Hall, 5th-year Mechatronics Engineering and HBA concurrent degree; Sean Wolczyk, 5th-year Mechanical Engineering with Certificate in Leadership and Innovation; Kieran Milne, 4th-year Mechanical Engineering and HBA concurrent degree; and Hunter Vernon, 5th-year Mechanical Engineering with Certificate in Leadership and Innovation.
For the Consulting project, teams were required to propose a solution to decrease traffic congestion in the city of Hamilton during the peak morning and evening commute hours. The task was to reduce the number of cars on the road by 15% over a 15-year time frame
After being introduced to the problem, students then had six hours to come up with a solution that included a financial and budget analysis, and a detailed plan of action that adhered to environmental standards.
"As a team, we worked very well together," said Bridget Hall, Mechatronics Engineering and HBA student. "Our solution was a smartphone application that connected people based on their commuting routes, their work schedules and their interests. To incentivize people to carpool, there would be a rewards program where both the driver and passenger(s) would be able to redeem points for every kilometre carpooled together. These rewards could then be redeemed at participating local businesses in the city of Hamilton."
Hall added that the opportunity to compete in OEC was a reward in itself, where teams could network with engineering students from other provincial universities, as well as professional engineers in the engineering consulting industry.
"With the nature of the open-ended problem, we were able to use our creativity to come up with a feasible solution," said Hall. "But with a six-hour time constraint, we knew that simplicity and thoroughness were key, and I think that is what set us apart from the other groups."
---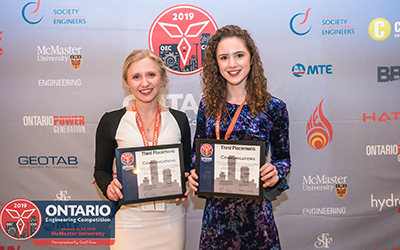 Placing third in Communication was Allie Bachtold, 3rd-year Mechanical Engineering; and Angelica Tilli, 3rd-year Mechanical Engineering, currently on a 16-month internship at OES Inc.
For the Communication portion of the competition, 10 teams of up to two students were tasked with taking a technical process that has positive environmental, social, economical, and political impacts, and explain it in a simple way. Given that the competition theme was Urban Development, Bachtold and Tilli were inspired to create a presentation on Polystyrene: Exploring the Benefits of Improved Processing.
"Our general idea was that polystyrene can be recycled if the proper infrastructure was in place, and it would have huge impacts on not only the environment, but would also create more jobs, and that is how we related the process back to Urban Development," said Allie Bachtold, current President of the Undergraduate Engineering Society.  
The team presented in front of a panel of judges who were all representatives from the Ontario Society of Professional Engineers. Bachtold mentioned that she and teammate Tilli received very positive feedback from the judges about their presentation, specifically regarding how well they presented together and their ability to answer all the judges' questions.
"It meant a lot to us that the judges would take time to give us this feedback," said Bachtold. "The experience of this competition helped me practice my communication and presentation skills, and it also gave us the opportunity to refine our research skills.
"We definitely have plans to compete in the Western Engineering Competition again next year and hopefully have the opportunity to represent Western Engineering again at OEC and even CEC!"
Western Engineering is extremely proud of its students and their successes at OEC, and wishes Bridget, Kieran, Hunter and Sean all the best as they prepare to represent Western University at CEC 2019.