We Develop Leaders - A look back at Western Engineering's 10th annual Leaders' Reception

Western Engineering News | December 17, 2019
What does it mean to be a leader?
The answer is different for everyone, but at Western Engineering's 10th annual Leaders' Reception, three distinguished alumni showed us the many ways someone can embody what it means to be a leader.   
On November 20, 2019, at the Toronto Board of Trade, Western Engineering was joined by Jason Falbo, BESc'04, PhD Candidate, CTO, Mircom; Lauren Lake, BESc'13, COO and Co-founder, Bridgit; and Alex Kopacz, BESc'13, Olympic Gold Medalist, two-man bobsleigh.
What did their journey to leadership look like, and how did their student experience help shape them to become the notable leaders they are today?
Speaker Highlights
Jason Falbo
"Western inspired a lifelong learning bug in me. The ample labs and wealth of engineering professors with varied interests whet my appetite for scientific learning. The ability to pick up courses from other faculties such as social sciences, computer science, or the Ivey Business School gave me the important introduction to topics that would become essential to master for success later in life."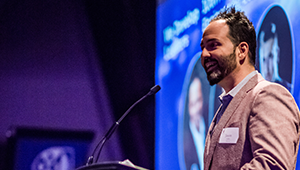 Jason Falbo made the most of the opportunities available to him at Western Engineering during his undergraduate career, which, in turn, inspired him to return to Western, where he is currently completing his PhD focused on optimizing the behaviour of smart devices in mixed network environments.
Lauren Lake
"Thinking back to 2013, being a Western Engineering student, I don't think I had the luxury to think this far ahead and dream of what the next seven years would look like. We never thought we would get to this point, but we're really happy Western was a part of our founding story – It's where everything began."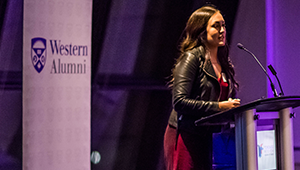 Lauren Lake reminisces on her personal journey from starting out as an Engineering student and joining forces with Co-founder Mallorie Brodie, HBA'13, to leading Bridgit, a prospering 50-person construction software company based out of Kitchener, ON.
Alex Kopacz
"The number one thing I got out of engineering and the most precious tool that each and every one of us has is problem solving. We put in ridiculous amounts of hours with homework, assignments and exams – What was the bulk point?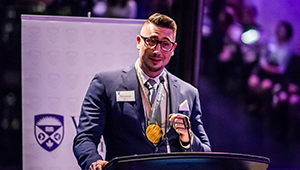 It was how to manage the tools that we have, to know which tool to pick in every case and every situation so that we could solve any given problem that came our way." 
Alex Kopacz reflects on his perseverance through the setbacks during his journey to becoming an Olympic bobsledding champion.
For photos of the 10th annual Leaders' Reception, visit our Facebook page.
---
Save the date for our 2020 Leaders' Reception
Mark your calendars, and join us on November 5, 2020, in Toronto at the Arcadian Loft. Details coming soon.