Katherine Albion, PhD '08, named Western Sarnia-Lambton Research Park's new Executive Director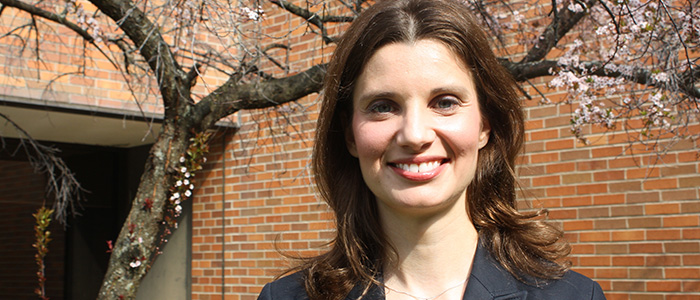 Western Engineering News | January 4, 2018
Western Engineering is pleased to share the news that, effective January 2, 2018, The County of Lambton Community Development Corporation (CLCDC) Board of Directors named alumna Katherine Albion, Executive Director of the Western Sarnia-Lambton Research Park.
"It is an honour to be the new Executive Director of the Western Sarnia-Lambton Research Park," said Albion. "I look forward to working with the Park's clients, tenants and partners, including Western Engineering, to advance innovation and technology development in the Sarnia-Lambton region."
Albion has been with the Western Sarnia-Lambton Research Park since 2008, one year after graduating from Western University with her PhD in Chemical Engineering. The Park, created in 2003 as a joint initiative of the County of Lambton, the City of Sarnia, and Western University, is Canada's largest clean-tech incubator, focused on large-scale industrial biotechnology.
"I'm excited for the opportunity to grow the Park's relationship with Western Engineering," Albion added. "Western Engineering provided me with the strong foundation for my career, and its students will be future leaders of innovation and economic growth for the region."
In addition to receiving her PhD in Engineering, Albion also received her Bachelor's degree in Chemical & Biochemical Engineering from Western University. She has received numerous awards over her career, including the Award of Excellence from The Canadian Academy of Engineering Energy Pathways Task Force in 2010 and the Western Engineering Award of Recognition from the Faculty of Engineering in 2015. Katherine also sits on the Advisory Council for Western Engineering.
In regard to Albion's overall vision for the Park, she noted that it has been very successful in recent years, with a large number of tenants graduating from the Park onto further commercialization in the field.
"The Research Park will attract and support the creation of new businesses in emerging technology sectors, resulting in new opportunities for research, commercialization and innovation at the Park and in the Sarnia-Lambton region."
Albion, who most recently served as Director of Commercialization at the Park, replaces Tom Strifler, who will retire after a short transitional period.
"The Western Sarnia-Lambton Research Park is fortunate to be able to transition from one highly effective and visionary leader to the next," said Board Chair Mike Bradley.  "The Board thanks Tom for his professionalism and insight over the last four years and offers its sincerest congratulations to Katherine, who it looks forward to working alongside in the months and years to come."
Western Engineering is proud to have Katherine at the helm of the Western Sarnia-Lambton Research Park, and we look forward to working with her and watching the growth of the Park.
---