Q&A with alumnae behind EngGirlProblems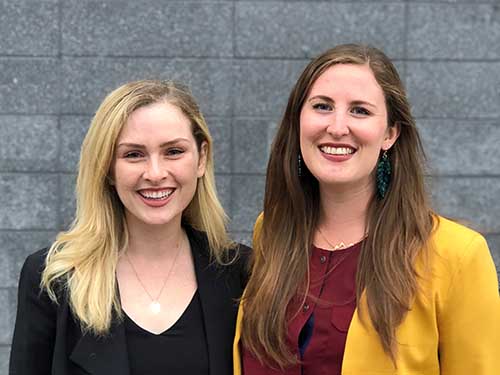 Western Engineering News | October 2, 2018
Western Engineering alumnae Olivia Gillis, BESc'17, and Elaine Samuel, BESc'13 & MESc'16, are the women behind EngGirlProblems – a blog for women in engineering, by women in engineering.
These two alumnae, who are former schoolmates turned roommates now living in Toronto, will return to their alma mater on October 13 as the keynote speakers at Go ENG Girl, an exciting opportunity for Grade 7-10 girls to learn about the world of engineering: A Caring Profession.
We spoke with Olivia and Elaine to delve into everything from their day-to-day work tasks, to their Western Engineering student experience, to what inspired them to start EngGirlProblems.
Q: Can you tell us about your overall Western Engineering student experience?
Olivia: If I had to sum up my Western Engineering student experience in one word, it would be "team." There was a common saying amongst the students that "engineering is a team sport," and this rings incredibly true when I look back at my years in the faculty. One of my proudest accomplishments is my position as Head Soph of the Engineering Soph Team in 2016. The experience stands out because we not only brought Star Wars to life that Orientation Week (which may have involved R2D2 and a certain campus observatory), but we did so thanks to the hard work of numerous people on the team. Leading in that kind of environment was very formative and is something I definitely carry with me in my career. 
Elaine: I had a great experience at Western. I was very active in student council, clubs and outreach activities. Roles I am most proud of include being the President of Women in Engineering in my third year and being a soph to first year students through the orientation program.
My favourite course and professor experiences were through the international development program. When I was there, Dr. Keenan (now retired) taught several courses and connected me to international experiences after undergrad, including an opportunity to work for an NGO at Western doing development work in Rwanda. I also travelled to Madagascar through the ID program externship for research, which was the highlight of my undergraduate experience at Western.
Q: How has your time at Western Engineering prepared you for your careers?
Elaine: The friendships and relationships I made during my time at Western have been the most valuable to me. Having friends and mentors to reach out to for career advice and support has been helpful, and I found my current job through my personal network from Western. 
Olivia: I completely agree with Elaine: the people that I met at Western Engineering have had the most impact on my career. My multi-functional role at work means that I interact with a wide variety of people on a daily basis. In order to successfully implement a project, it is imperative that I communicate my technical skills and collaborate with other skilled people to get the job done. It can't be understated how important it is to build relationships in the workplace, and the team atmosphere at Western Engineering really helped me to develop these skills.
Q: Can you discuss your current roles at Improtech and GM BluePlan Engineering Ltd.?
Olivia: I am currently a Process Engineer in Training and Project Manager at Improtech Ltd., which is a specialized engineering firm that focuses on turn-key projects in food and beverage manufacturing. Working as a turn-key firm means that we follow projects from start to finish: we are responsible for the engineering design of a system as well as managing the installation to completion. What makes my job fun is getting to go behind-the-scenes of some of my favourite products. For example, Elaine likes to call me an ice cream engineer because I've recently been focused on the engineering behind ice cream production.
I started this position in May of 2017, and what drew me to the company (besides the delicious projects) was the size and the culture. Improtech is a small company, which means I have been exposed to a large number of projects in a short amount of time. Doing these projects turn-key also means I have had many experiences with hands-on work in the field. This has allowed me to take on more responsibility and gain experience more quickly than I had imagined coming out of school.
Elaine: I am a Civil Engineer in Training in Asset Management at GM BluePlan Engineering. I have a diverse workload in my current role, but primarily, I do wastewater modelling and hydraulic analysis of urban systems, which leads to recommendations for rehabilitation projects, inflow and infiltration reduction programming and asset management/capital planning. I started working in January 2017, after taking a break to travel after completing my Masters. I heard about my current position through my Western network, and I liked the mix of field and office experience the position offered.
GM BluePlan is an engineering consulting firm of 200 employees with 7 offices across Ontario. I really like the smaller office sizes where you can get to know everyone. At my home office in Hamilton, roughly half of the Project Managers are women, as are the junior and intermediate employees, which is quite rare in engineering.  
Q: What are some of your day-to-day responsibilities at work?
Olivia: Because of the small size of my company, my role can change on a daily basis. If I am completing an engineering design, that might mean staying in the office to complete pressure drop or fluid flow calculations with my boss. If I am acting in more of a project manager role, that could mean being in the field with contractors, creating project scopes, picking parts for an installation, or conducting meetings with clients to discuss the engineering problems that need solving. Having a dynamic role can be challenging to manage at times and makes for a sharp learning curve, but it also keeps work interesting. 
Elaine: Every day is different for me. While I work mostly on computer models of wastewater systems, I have a variety of different projects and I have the chance to get out to the field or to see clients on a weekly basis. Sometimes I am part of a larger team, doing my part on the project (providing analysis usually); other times I lead small projects on my own with the review of my supervisor.
Q: Do you have any noteworthy stories or exciting projects you've worked on that you'd like to share with us?
Olivia: No matter how many times I step onto a production floor, I still find myself fascinated with the processes behind manufacturing. I was a huge fan of the TV show How It's Made growing up, so I am like a kid in a candy store (or rather an engineer in an ice cream factory) when it comes to implementing projects that improve these processes. I also find food a very fun environment; it's somewhere that you really have to get creative in order to create the best design for a certain product.
Elaine: The most interesting projects have been ones that can't be solved by a single solution. There are lots of ways a sewer system can fail or leak or cause basement flooding, so the most interesting projects have involved figuring out why a failure occurred and what has to happen next to prevent that from happening again.
Q: How did EngGirlProblems come to be?
Olivia: EngGirlProblems is a blog for women in engineering, by women in engineering. Our mission is to create community and discussion around the "#enggirlproblems" we face in our personal and professional lives, and ultimately find solutions to these problems for ourselves and others.
Elaine and I collaborate to produce EngGirlProblems. Last summer, I found myself searching the internet for information and advice tailored to women in engineering, but I felt I wasn't finding the right resources to support me in my career. I knew that women faced certain struggles in engineering workplaces, so I was seeking a forum that would openly discuss these issues and how to collectively address and improve them. When I didn't find what I was looking for, I came up with the idea of starting a blog.
Elaine: I started EngGirlProblems as a private Facebook group while I was in undergrad as a space to connect women in engineering at Western on an unofficial page where girls felt free to speak their minds about their experiences at school. Mostly, it was funny posts about long line ups for the one women's bathroom in the Spencer Engineering Building (which has since been renovated and expanded), along with empowering posts whenever someone saw an article on exceptional women in science and engineering. Olivia and I are currently roommates in Toronto, so when we came up with the idea of combining EngGirlProblems with a blogging platform, it wasn't long before we were brainstorming in our kitchen. We have kept the name and have transformed the closed Facebook group into a blog with articles on what we are experiencing in our daily lives at work.
The feedback we've received has been overwhelmingly positive. Our extended network has shared the page with their friends and are sharing our articles that resonate with them. We love receiving feedback and ideas for our book club or future articles because it helps us figure out what people want to learn more about.  
Q: What does it mean to you both personally to be asked to come back to Western Engineering to speak at Go ENG Girl?
Elaine: I was thrilled to be asked to speak at Go ENG Girl! I volunteered almost every year during my time at Western, so it is really cool to participate again as a speaker. I am excited to share what I love about engineering with the young ladies at Go ENG Girl. 
Olivia: I am very excited to return to Western to speak at Go ENG Girl. Like Elaine, I also volunteered at events as a student, and it is surreal to be returning as a keynote speaker. Go ENG Girl is personally significant to me because I switched into engineering from another faculty after my first year at Western. Although I found my way to engineering eventually, it was not a path I was encouraged to pursue during my earlier school years. I really felt like I had found my niche when I entered Western Engineering, and I hope to help other young women find theirs by speaking at this year's Go ENG Girl.