Two Western professors inducted into the Canadian Academy of Engineering
Western Engineering News | June 18, 2018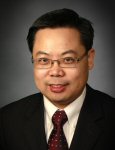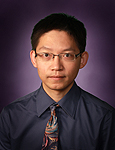 On June 18, 2018, Electrical and Computer Engineering Professor Xianbin Wang and Mechanical and Materials Engineering Professor Jun Yang were among the 59 new Fellows inducted into the Canadian Academy of Engineering (CAE). The ceremony took place in Calgary, in conjunction with the Academy's 2018 Annual General Meeting and Symposium.
CAE president, Dr. Eddy Isaacs commented: "The new Fellows are engineers of outstanding abilities and of widely varying backgrounds, from Industry and Academe and Government. What they all have in common is the demonstrated desire and ability to go beyond the normal practice of engineering and contribute in exemplary ways towards their fields and to their communities. We expect great achievements through their participation in the Academy's activities."
Dr. Xianbin Wang, Canada Research Chair (CRC) and IEEE Fellow, is internationally recognized for his pioneering contributions to Orthogonal Frequency Division Multiplexing (OFDM) and for his world-leading innovations in improving efficiency and security of wireless communications. As a passionate inventor, he holds 26 granted and pending patents, with over 20 of them as the first or sole inventor. His inventions have extensive technical scope, dealing with the most critical and complex issues in wireless communications, communications security, and localization technologies.
Dr. Jun Yang, Director of WIN 4.0 (Western's Industry 4.0 Network) at Western University, is a world-leading expert in micro/nano-engineering, printed electronics and additive manufacturing, and has made numerous significant and original contributions. Dr. Yang holds 10 granted and 16 pending patents, three licenses, and has founded a successful start-up company. His microlens fabrication technology was adopted by an industrial partner and has since been used in 2 billion CMOS image sensors. His licensed membrane technology has led to products that have been delivered to more than 100 institutes, organizations, and companies globally.
Western Engineering is extremely proud of Dr. Xianbin Wang and Dr. Jun Yang, and congratulates them both on the great honour of being inducted into CAE. 
---
The Canadian Academy of Engineering is the national institution through which Canada's most distinguished and experienced engineers provide strategic advice on matters of critical importance to Canada. The CAE is an independent, self-governing and non-profit organization established in 1987. Members of the CAE are nominated and elected by their peers to Fellowships, in view of their distinguished achievements and career-long service to the engineering profession. Fellows of the Canadian Academy of Engineering are committed to ensuring that Canada's engineering expertise is applied to the benefit of all Canadians.
CAE works in close cooperation with other senior academies in Canada and internationally. It is a founding member of the Council of Canadian Academies, along with the Royal Society of Canada and the Canadian Academy of Health Sciences. The CAE is also a member of the International Council of Academies of Engineering and Technological Sciences, which includes some 26 similar national bodies around the world.