Western Engineering students win top honours at national engineering competition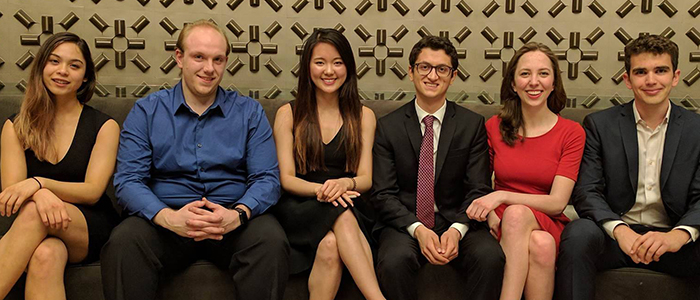 2017 CEC First Place Winners: Selin Acar, Richard LaCroix, Vanessa Deng, Mofeed Sawan, Jolien van Gaalen, Tom Grainger
Western Engineering News | March 7, 2017

Not long ago, Western Engineering congratulated two teams of undergraduate students who brought home top prizes at the 2017 Ontario Engineering Competition (OEC).   The six students from those teams went on to compete in the Canadian Engineering Competition (CEC) held at the University of Calgary on March 2–5.

The Faculty of Engineering is extremely proud to announce that both teams brought home top honours from this year's national competition.  

Software Engineering student Selin Acar, together with BESc/HBA students Tom Grainger, Vanessa Deng and Mofeed Sawan picked up first prize in the Consulting category.  In this category, teams of four were challenged to design a detailed solution to a large-scale engineering problem.  The problem: develop a digital infrastructure plan for the 2026 Winter Olympic Games in Calgary to improve the fan experience and Calgarian's everyday lives.  The Western Engineering team was selected for excellence in their implementation of market research, feasibility studies, and design prototyping.

"It felt incredible to represent Western University and Ontario and compete on a national level," said Deng.  "I also felt very lucky to have competed alongside so many smart, competent teams. People that I met at the competition are all incredibly intelligent, passionate, and fun; they inspire me to be the same."

Mechatronic Systems Engineering students Richard LaCroix and Jolien van Gaalen won first place in the Innovative Design category.  Innovative Design competitors must prepare entirely prior to the CEC competition.  They must choose their own topic, prepare research, and develop a novel and groundbreaking design that addresses a void in society. LaCroix and van Gaalen were selected for their technical breakthrough and their excellence in implementing the engineering design procedure.  They presented an automated hydroponic indoor system for growing microgreens, called Migrova, that is being developed under the advisement of Professor Hanif Ladak from Western Engineering's Department of Electrical and Computer Engineering.

Each of the six participants cited teamwork as one of the most important factors in their success: "The key to doing well in this competition is having a great team," explained Deng.  "We were lucky to have a team where everyone had different areas of strength, and we all 100% trusted each other's ability in their respective areas."

Each year, the CEC welcomes brilliant engineering undergraduate students from coast to coast to challenge themselves in technical design, communication, and problem solving.  Western Engineering recognizes that great engineering careers are built on leadership and innovation.  The entire faculty extends heartfelt congratulations to these outstanding national champions.

To learn more about CEC click here.