Award reception brings together students, faculty and alumni with Entrepreneurial Spirit.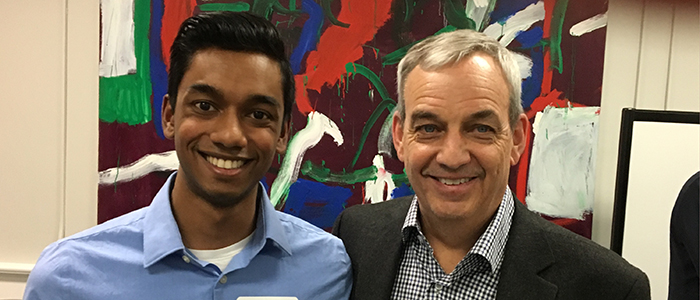 Western Engineering News | March 8, 2017

Western Engineering recognizes that great engineering careers are built on leadership and innovation. Now, more than ever, the most respected companies worldwide rely on critical thinking and analytical skills to achieve breakthrough engineering technologies.   Gary Mottershead, BESc'75, MBA'77, knows this first hand, having coached more than 3000 entrepreneurs over the last 20 years and enjoyed his own success as head of GCP Industrial Products, an international company. 


In 2005, Mottershead established the Entrepreneurial Spirit Award in order to recognize a full-time undergraduate student who demonstrates passion, persistence, and achievement in developing an innovative or entrepreneurial idea through the use of engineering principles.  The 2017 award was presented to Mechatronic Systems Engineering student Seran Thirugnanam at a reception which brought together a diverse group of students, faculty, and alumni.  Dean Andrew Hrymak and Janice Deakin, Provost and Vice-President (Academic), Westsern Engineering were also in attendance.

"The main purpose of this event was to present the Entrepreneurial Spirit Award, but as I began to think about it, I thought about how many amazing entrepreneurial things are going on within the Faculty of Engineering." said Professor Darren Meister, John M. Thompson Chair in Engineering Leadership and Innovation.  "I get to know all of these people, but they don't always get to know each other.  However, as you think about the many exciting entrepreneurial ideas that I get to hear about at Western Engineering, you quickly realize that the students doing the great things need to be celebrated together. This gives them a chance to meet, renew friendships and talk about their 'next' ideas."

The reception became an opportunity to celebrate Thirugnanam's success as well as a chance for students and mentors to connect.

Present at the reception were Jolien van Gaalen, and Tom Grainger, both undergraduate engineering students and both first-place winners at the 2017 Canadian Engineering Competition, and Alan Kalbfleisch, MESc'16 who together with Kai Chen and Andrey Khramtsov, BESc'16, invented the ingenious Pascal Press, a coffee press that combines full immersion and pressure brewing for coffee lovers on the go.

"Sometimes, I'm sitting in meetings with people from all over the world," said Kalbfleisch.  "I can't believe this whole thing started because I just wanted a good cup of coffee."

Soaking up the entrepreneurial energy in the room were Western Engineering students Justin Lam, Aidan Sabourin, Danny Loo and Armin Gurdic, the masterminds behind the hugely successful (and highly addictive) Bottle Flip app as well as many participants from Next Canada (formerly Next 36), a program that accelerates the growth of Canada's most talented young entrepreneurs by providing mentorship, capital, and unparalleled founder development.

"It's been a fantastic year for entrepreneurship at Western Engineering," said Meister.  "With the support of Gary Mottershead and the establishment of the Entrepreneurial Spirit Award, we are clearly seeing a very bright future for Western Engineering to continue growing as a hub for value creation at Western and across Canada."

Western Engineering students are building practical solutions to problems affecting communities and industries.  The list of students who are achieving great things is growing.  

As the reception drew to a close, Mottershead was quickly surrounded by students eager to ask questions and glean some valuable advice.  "This is what's really important; what you're doing today is where everything is happening," he said. "Big companies start as small companies and everything you do is significant. A few people can make great changes."

For more information on the Entrepreneurial Spirit Award including application details click here.