Western Engineering students advance to Canadian Engineering Competition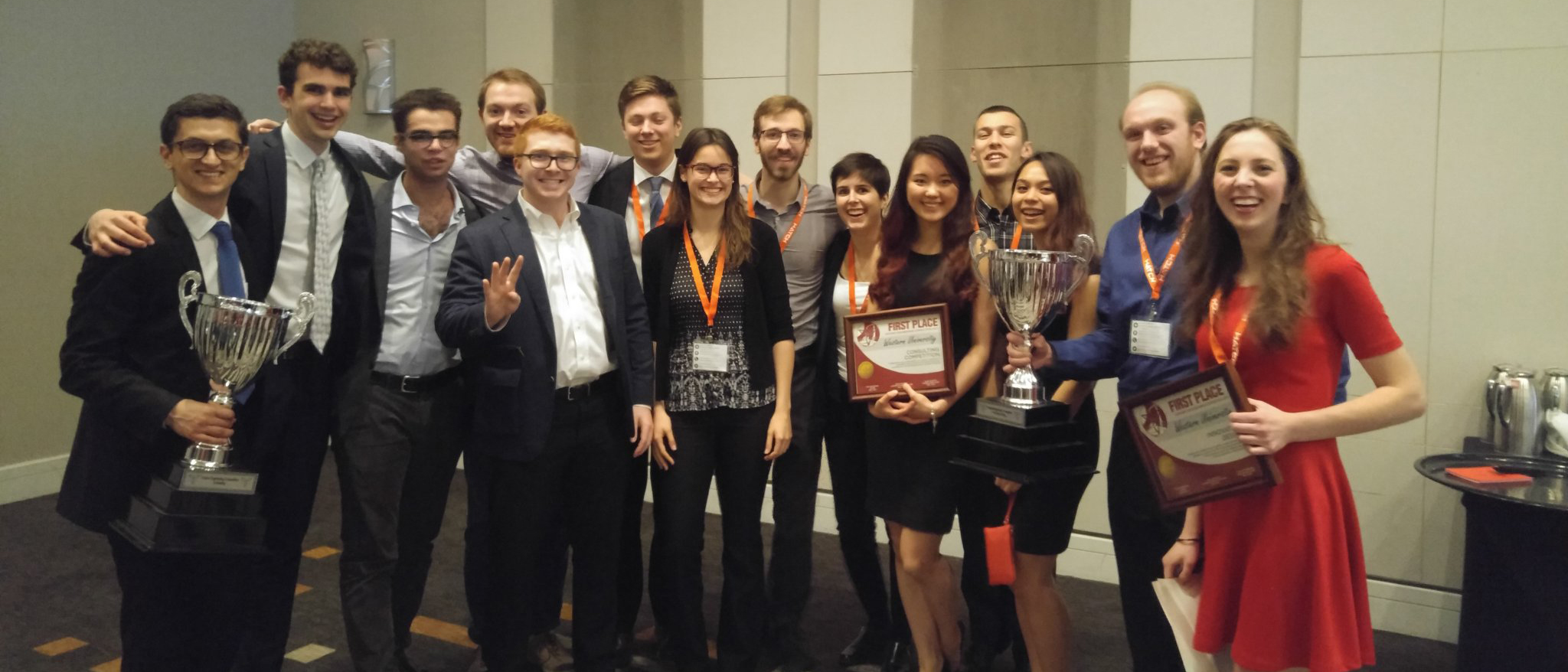 Western Engineering News | February 2, 2017
The Faculty of Engineering congratulates the six undergraduate students who brought home top prizes recently at the 2017 Ontario Engineering Competition (OEC). Richard LaCroix and Jolien van Gaalen won first prize overall in the Innovative Design category and Tom Grainger, Mofeed Sawan, Vanessa Deng and Selin Acar were the recipients of first prize in the Consulting category.  All six will advance to the Canadian Engineering Competition (CEC) March 2–5 at the University of Calgary.  

The OEC is an annual competition that brings together Ontario's brightest students to participate in challenging case studies that pertain to real-world issues.  Hosted by a provincial school, the OEC invites all engineering schools across the province to attend and compete in one of seven categories: Junior Design, Senior Design, Consulting, Parliamentary Debates, Engineering Communication, Innovative Design, and Programming.   The OEC showcases the exceptional engineering skills achieved by engineering students and is an opportunity for Ontario's brightest to put their engineering knowledge to the test. The top two teams in each category advance to the CEC.  

On January 27, Carleton University hosted the 39th annual OEC.  The event featured 16 universities and more than 300 competitors.

"I've competed at OEC for the past 3 years now," said Jolien van Gaalen, a fourth-year Mechatronic Systems Engineering student. "It has always been a great way to meet interesting individuals from other universities."

Teamed with fellow Mechatronic Systems Engineering student Richard Lacroix, van Gaalen entered the Innovative Design category.  This highly technical category involved creating a new technological design or to revisit one that requires development. The proposals were judged based on their originality and practicality.  Lacroix and van Gaalen presented an automated hydroponic indoor system for growing microgreens, called Migrova, that is being developed as part of their MSE 4499 project, under the advisement of Hanif Ladak, an associate professor in the department of Electrical and Computer Engineering at Western University.

"The overall purpose of the project was to make nutritious fresh foods more accessible in a sustainable way," said van Gaalen.  "Microgreens have a short harvest time, are small in size, and are highly nutritious which makes them an ideal crop to grow in an urban/home setting."

The project is made up of two components: the physical system and the companion smartphone app. "Our focus behind Migrova was to create an indoor grower which anyone could afford," explained LaCroix.  "After much design and analysis, we believe our system could retail for a fraction of the cost of current microgreen growers."

Perceived as the most daunting of the seven categories, the Consulting category challenged teams of four to devise an innovative and comprehensive solution to a real-world problem prescribed by a hypothetical client.  Software Engineering student Selin Acar teamed up with Mofeed Sawan, Vanessa Deng and Tom Grainger, all BESc/HBA students completing dual degrees with Western's Faculty of Engineering and the Ivey Business School.

They were challenged with increasing tourism in Ottawa by doubling the width of the Rideau Canal.  "It was an unorthodox challenge from our perspective," explained Grainger. "But that created the opportunity to be creative and differentiated with our solution."

The team had just six hours to prepare a redesign of the City of Ottawa's downtown infrastructure that would help bolster their tourism sector.  "Our team won based on our ability to draw on our experience as engineering students to rationalize the different parts of the problem, and come up with well-justified solutions for each sub-problem." said Sawan.

In all seven categories, teamwork is essential for success at this competition.  All award winners recognize the importance of being able to work together toward one common goal.

"Part of our success with Migrova can be attributed to our diverse backgrounds," said LaCroix. "With Jolien's agriculture background and my own software background, we were able to develop ideas and solutions that would not have been possible without each other's input."

Consulting teammate Selin Acar is quick to point out that Engineering is not a solo job: "You work together to put your thoughts, experiences, and skills towards solving problems," she explained. "That's exactly what our team did. We did our best to manage the tasks to be done."  Her teammate, Mofeed Sawan, agrees: "We all trusted one another to get our work done, which was crucial in the six-hour time frame."

Western Engineering encourages competitions such as this which are essential in shaping the student experience.  "Extracurricular competitions allow students to demonstrate the application of knowledge and technical skills learned in formal courses. Through participation in competitions, students build a dossier of projects that can be presented to potential employers to demonstrate that they are able to put their academic background into action," said Dr. Ladak. "These competitions allow students to develop and demonstrate the ability to work in teams, manage projects and communicate their ideas. These "soft skills" are needed by employers looking for the next engineering leaders."

Both teams are looking forward to representing Western Engineering on a national level: "I'm so excited for this opportunity to compete with other engineers from across the country," said Acar. "It will be interesting to talk about the industry and just meet other students with similar experiences and interests."

The CEC brings together 150 of the nation's brightest and most creative undergraduate engineering students. The theme for the 2017 CEC, Beyond the Horizon – Collaborate, Evolve, Create, will inspire participants to push boundaries and delve into the extraordinary.  
 
The Faculty of Engineering looks forward to learning the results of this national competition and extends the best of luck to all six of our participants.  Please stay tuned for updates.