MP Kate Young talks STEM with Western Engineering's Just for Girls Summer Camp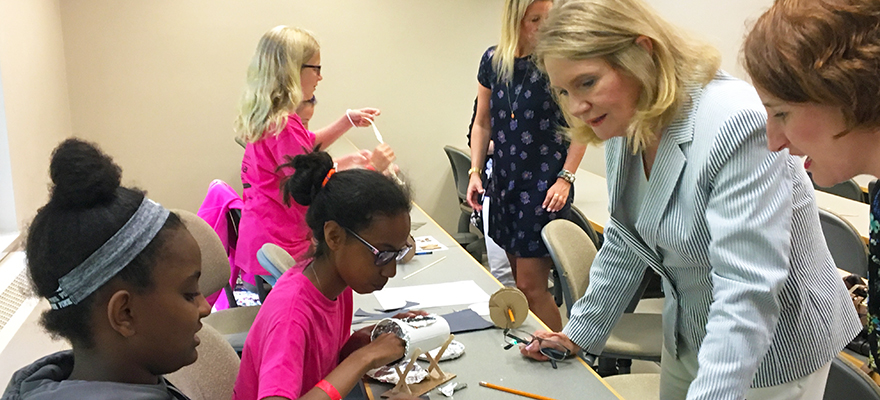 London West MP Kate Young and Actua Canada Director of Network Membership Tracy Ross look on as Western Engineering campers present their STEM-centric projects.
Western Engineering News | July 27, 2017
On Tuesday, July 25, MP Kate Young participated in the Bring your MP to Camp Day by visiting elementary school children enrolled in Discovery Western's Just for Girls Engineering Camp.   The initiative is spearheaded by Actua in partnership with its network members.
Actua is a national charity preparing youth to be innovators and leaders by engaging them in exciting and accessible STEM experiences that build critical skills and confidence. Also present at the event were representatives from the Ted Rogers Fund, Rogers Canada who have recently committed to supporting Actua's goal of inspiring future innovators. Through their support of Actua, network members such as Western Engineering Outreach are able to expand their programs in order to increase reach and impact.
"I wish I had been able to go to a summer camp like this," said Young as she addressed the room full of campers.  "Part of my job is to learn how we, as the federal government, can help Western and different schools across the country so they can engage more young girls in science."
During the months of July and August, Discovery Western offers exciting summer camps for boys and girls with a special interest in science, technology, engineering and math (STEM). Over 120 campers in Grades SK-8 enjoy a dynamic learning environment each and every week.  All projects are designed from the Ontario Science Curriculum to ensure that the material is relevant, educational and fun.
 In the Just for Girls specialized camp, participants learn from female engineering counsellors and mentors about the amazing opportunities available in engineering in an effort to break down barriers surrounding STEM oriented careers and ignite a spark of interest in a new generation of future professional women.
"Experiencing STEM opportunities at an early age allows students to see what the possibilities are for them within this field and gives them the confidence to pursue it in later grades," said Joanne Moniz, Manager, Engineering Outreach Programs.   "Western Engineering's Discovery Western camps provide a safe and positive environment for all children to discover their inner engineer."
Young serves her community as not only the MP for London West but also as Parliamentary Secretary for Science, assisting The Honourable Kirsty Duncan, Minister of Science with her parliamentary duties.  After inspiring the students with her closing words: "Stay focused, stay engaged, stay excited", Young wandered the room along with Actua Canada Director of Network Membership Tracy Ross, and Greg Grimes, Director of Operations, Rogers Communications.  The campers were eager to demonstrate and explain their innovative projects and inventions.   
During the week long specialized session, campers learn to build a model of a combination lock, a solar oven that uses sunlight to make s'mores, LEGO programming and much more.

For more information on Western Engineering summer camps and outreach programs click
here
.