Professor Jim Johnson honoured for research contributions.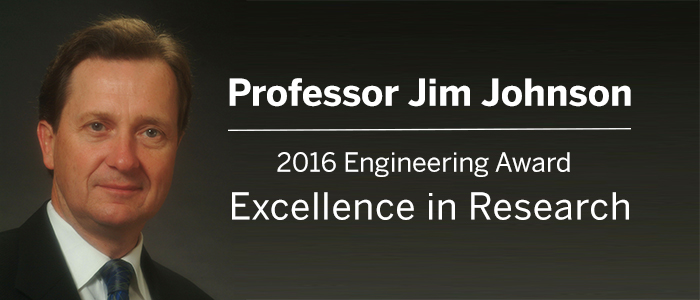 Western Engineering News | April 18, 2017


Western Engineering announced recently that Jim Johnson, a professor in the Department of Mechanical and Materials Engineering, is this year's recipient of the Engineering Award for Excellence in Research. This award is presented annually to a Western Engineering faculty member with an outstanding international reputation for their contributions in research. 
Since joining the Faculty at Western in 1998, Johnson has made significant contributions to the Department of Mechanical and Materials Engineering as well as the Department of Surgery at the Schulich School of Medicine & Dentistry.  He also played a major role in the formation and development of the Biomedical Engineering graduate program at Western.

"Our collaborative engineering/clinical model has allowed us to build a world-class research program in upper limb biomechanics," said Johnson.  "Our training program for graduate students and residents has also excelled."

Johnson conducts the majority of his research in the Roth|McFarlane Hand and Upper Limb Centre (HULC), within the Bioengineering Research Laboratory which focuses on a wide range of studies, including joint kinematics, fracture and implant fixation, implant development, and tendon biomechanics. The research laboratory is dedicated to a "benchtop-to-bedside" approach, where discoveries in the laboratory are targeted to directly enhance patient care.

"[Dr. Johnson is] one of the true world leaders in upper-extremity bioengineering," said Dr. Graham King, the HULC Director.  "He is viewed as one of the top bioengineers in this field in the world."

Johnson is an international expert in upper-extremity orthopaedics and his research has had a major impact on upper-extremity repair, on management of elbow disorder and on implant design.  He is highly regarded as a passionate researcher who is respected by students, colleagues and industry partners.  Johnson will receive the Engineering Award for Excellence in Research at the Western Engineering Faculty and Staff Award Lunch on June 13.

For more information about Professor Johnson's research click here.