Fraunhofer Project Centre receives Award of Recognition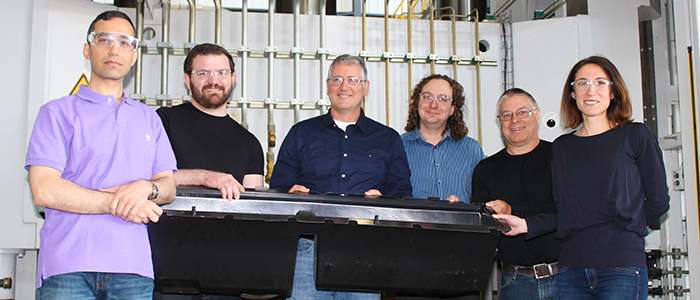 The FPC Team: Ehsan Ameri, Dan Park, Rob Cosh, Gleb Meirson, Steve Jones, Vanja Ugresic
Western Engineering News | June 7, 2017
The Fraunhofer Project Centre for Composites Research is one of this year's recipients of the Engineering Award of Recognition.
The Engineering Award of Recognition is presented annually to individuals or teams who have made an exceptional contribution in the past year to help further the academic, research and innovation, public service and administrative missions of the faculty.
The Fraunhofer Project Centre (FPC), a joint venture between Western University and the Fraunhofer Institute of Chemical Technology (ICT) in Pfinztal, Germany, is committed to developing, testing and validating new lightweight materials and advanced manufacturing processes at an industrial scale.
The team is successfully bridging the gap between fundamental research and industrial applications by working collaboratively with Western Engineering and a wide range of industrial partners across multiple sectors.
The centre is also a learning ground for the next generation of engineers, as internship, masters and doctorate students get hands on experience with the centre's technicians and engineers on the shop floor.
Currently, the FPC offers the only open-access full scale press and manufacturing capabilities that allow a company interested in composite materials to develop production scale processes and parts for test purposes.
The FPC team will receive their Award of Recognition at the Faculty & Staff Luncheon on June 13.
For more information on FPC click here