WETT named Overall Champions at GNCTR 2016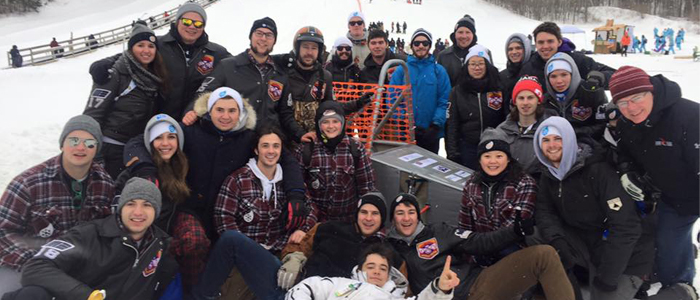 Western Engineering News | February 9, 2016
The Western Engineering Toboggan Team (WETT) returned from the Great Northern Concrete Toboggan Race 2016 (GNCTR 2016) as Overall Champions – a title they have been chasing since their last overall win in 2013. This victory marks the second time in the team's history they have been named Overall Champions of the GNCTR.
The GNCTR, most recently taking place at the University of Ottawa from January 27-31, is an annual event that has been hosted by universities across Canada for more than 40 years. Teams attending the competition are challenged to make a highly technical toboggan with a concrete running surface.
In addition to being named Overall Champions, WETT was awarded four first-place titles in Best Technical Report, Best Theoretical Toboggan, Best Breaking Performance and Most Improved Team, with a close second-place finish in the Best Spirit category.
Preparation for GNCTR 2016 began last April with the selection of the WETT executive team. Co-captains Eric Lefebvre and Ben Smosarski led the group of eight students as they began planning for September, when general members joined and the team of 75 engineering students kicked into full gear.
Through the fall and early winter months, team members worked on the toboggan structure and build, while also hosting concrete mix nights four nights a week.
Come January, the team came together and worked tirelessly to put the finishing touches on the toboggan and develop their technical display and theme. "Leading up to the competition, the team was putting in approximately 30 hours a week," said Lefebvre.
Heading into the GNCTR, WETT was confident they had put in the work required to be competitive. "We knew we had a great technical design," said Lefebvre. "We made concrete that is several times stronger than industry standard – that is unheard of."
Mother Nature led them into the weekend uncertain about their toboggan's ability to perform. "We hadn't done a test run due to a lack of snow in London; we weren't sure how the toboggan would compete on the hill" explained Lefebvre. "NASA doesn't do test runs, so why should WETT?" he said with a laugh.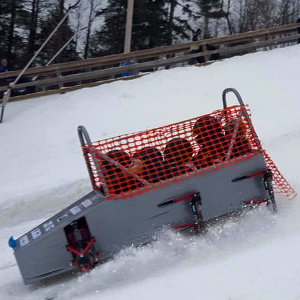 Despite this uncertainly, WETT's toboggan exceeded their expectations. "The most amazing feeling was watching the first run – we nailed it," said Lefebvre. "The team was jumping up and down with excitement."
While much of the teams' efforts go into preparation for the race events held at the end of the weekend, the GNCTR is not just a race.
"Each team comes with a theme to enhance the spirit and social aspects of the event," explained Smosarski. "WETT spent the weekend in khakis, work pants, work boots, plaid and duck tape in honour of The Red Green Show."
Upon arrival, teams participated in Competitor Interaction Day. "This day was an opportunity for schools to mingle, network and socialize with each other, while touring the city of Ottawa," said Smosarski.
Day two brought on the Technical Exhibition, where all toboggans were inspected by safety professionals before being given approval to race. Teams put their toboggans on display, showcasing their work to fellow competitors.
"A lot of brainstorming and ideas come together at the Technical Exhibition," Smosarski explained. "Every school is different in their management and ideas. It is a great opportunity to learn from other schools and develop new strategies."
Smosarski compared the atmosphere at the GNCTR 2016 to Western University's Orientation Week. "The energy is indescribable", he said. "Imagine hundreds of like-minded engineering students gathered together with optimistic attitudes, excited to learn from each other and to compete."
"Teams want to win because of the hard work they put in and everyone is willing to help each other. We needed more snow fence and the University of Ottawa had extra. They didn't think twice about sharing with us."
Opportunities like the GNCTR and being a part of student-run teams like WETT provides participants with invaluable experiences and skills.
"WETT offered us the opportunity to network within the faculty and taught us skills that you can't learn in the classroom. You learn how to work as a team, develop project management and leaderships skills, and you gain a group of friends," said Smosarski.
Both in their fifth years on WETT, Lefebvre and Smosarski described their time on the team as the pinnacle of their university experience.