Working to cut weight from vehicles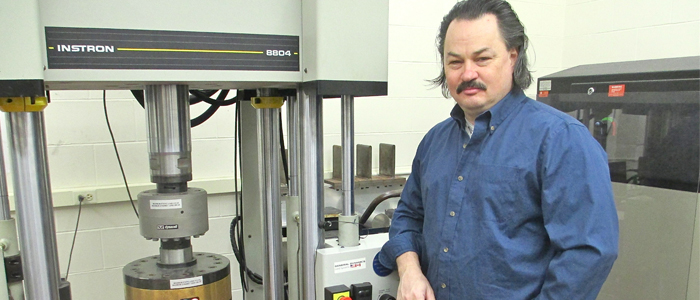 Western Engineering News | March 31, 2015
By Jason Teakle
Western Engineering researchers are on the forefront of developing leading-edge materials as automakers seek to replace heavy steel car parts with lighter ones to improve fuel efficiency and cut emissions.
Jeff Wood, an associate professor in Western's Department of Mechanical and Materials Engineering, and his research team are trying to take some weight off the shoulders of General Motors Canada employees.
"The aim is to take more weight out of vehicles," Wood said. "When weight is removed, fuel economy is improved, the range of electric fuels is extended and greenhouse gas emissions decrease."
The project, which is funded in part through an Automotive Partnership Canada grant, focuses on replacing metallic automotive parts with ones made of direct long fibre thermoplastic (DLFT) polymer composites, which are significantly lighter than metal.
Though the goal is to decrease the mass of vehicles, DLFT polymer composites must be rigorously modeled and tested – long before any parts made of the material will be used in the assembly of road-ready automobiles.
"If we can replace metallic parts with polymer composites, we see success," Wood said. "Metals are well-understood and their behaviour can be modelled relatively well in computerized crash simulations. But, before a car company will put a new part on a car, they must model how it will behave.
"Polymer composites are less understood and we are learning how to model their behaviour."
When Wood says 'we,' he is referring to the multi-disciplinary group of experts working together on this project, including: Western Engineering Dean Andrew Hrymak; Western Engineering faculty members Jesse Zhu and Takashi Kuboki; about 20 members of the International Composites Research Centre; researchers from the Fraunhofer Project Centre of Composites Research and the Karlsruhe Institute of Technology in Germany; as well as a professor at the University of Waterloo and researchers from the University of Windsor, McMaster University and the University of Toronto.
"The network of members are from all across the value chain of polymer composites, including auto design, machining and simulation," Wood explained. "We are starting with the raw materials and working through to a finished product."
For example, once the mechanical properties of the prototype parts are analyzed here at Western, the findings will be sent to the University of Waterloo, where models will be created to describe the material's behaviour.
The final challenge for Wood's research group is to manufacture the DLFT polymer composites with improved surface or aesthetic qualities.
"That's where Dr. (Jesse) Zhu comes in with powder technology," Wood said. "The real goal is to get the knowledge to design and model structural DLFT parts with an acceptable surface finish.
"We will be making real, prototype parts that will be tested on GM vehicles," Wood said.