Western Engineering students to compete against the best at CEC 2015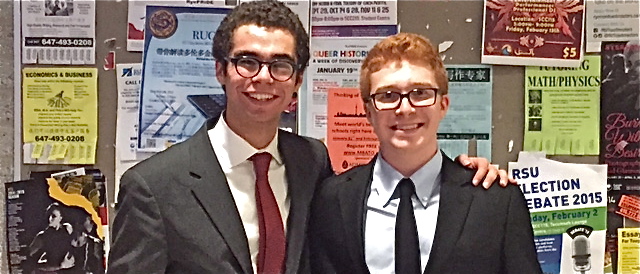 Western Engineering News | February 20, 2015
By Jason Teakle

Two Western Engineering students will compete against the best and brightest engineering students in the country when they head to the Canadian Engineering Competition 2015 (CEC 2015) at Memorial University in St. John's, NL on March 6.
Jacob Green, a third-year Electrical Engineering student and Mitchell Morrison, a second-year Chemical Engineering student, formed the Western Engineering Competition's (WEC) communications team and recently advanced to the Ontario Engineering Competition (OEC 2015) at Ryerson University in Toronto.
After successfully advancing to the CEC 2015 – an annual competition involving more than 170 of the best and brightest engineering students from across Canada – Green and Morrison say they are ready to claim a national victory with their communications presentation on the industrial engineering practice of hydraulic fracturing – more commonly known as 'fracking' – for natural gas production.
According to the Canadian Association of Petroleum Producers' (CAPP) website, fracking is the process of pumping a fluid or a gas down a well, many hundreds or thousands of metres below ground, where pressure creates the surrounding rock to crack or fracture. A fluid – usually water with some additives mixed with sand – then flows into the cracks. When pumping pressure decreases, water disperses and leaves a thin layer of sand to prop open the cracks, allowing the natural gas to escape and be recovered.
Green and Morrison believe that fracking is a necessary and beneficial practice and have based their communications presentation on that premise.
"We believe that with tighter government regulations, fracking and its increased production of natural gas should be pushing out the consumption of dirtier fossil fuels like coal, while at the same time we need to maintain our societal focus on green energy expansion," Green said. "If I had a switch to flip and make everything renewable or green, I would flip it – but we don't have that option and the world needs fossil fuels."
The opportunity to compete at WEC and OEC 2015 allowed Green and Morrison to steadily hone the details of their fracking presentation.
"We really benefitted from the feedback provided to us by Eric Doerr, a graduate student along with the other WEC judges," Green said.
"It will be a tougher crowd at (CEC 2015)," Morrison explained. "It is important for us to effectively and clearly explain our points, but we're happy with the content and the argument we're making."
Although this is the first time Western has sent a communications team to CEC, Green is not worried. "We plan to continue our undefeated streak."
CEC 2015 will run from March 6 – 8 at Memorial University in St. John's, NL. The competition is designed to test competitors to develop innovative and creative engineers who always consider the environmental, social and economic impacts of their decisions. Learn more: 2015cec.ca