Western Engineering students to benefit from major Siemens PLM Software grant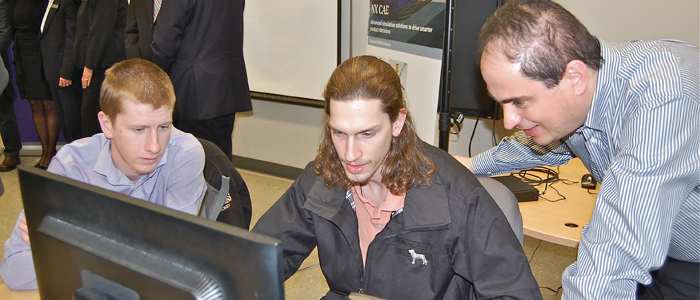 Western Engineering News | March 6, 2015
By Jason Teakle
Western Engineering students will benefit from a major software grant provided by Siemens PLM Software and Longterm Technology Services Inc. for its product lifecycle management (PLM) software.
The partnership was announced during a media conference held at Western Engineering on March 4, which drew more than 100 dignitaries, faculty, staff and students to the Thompson Engineering Building.
The software licensing grant will provide more than 400 Engineering students with the opportunity to learn critical skills to operate NX software – a leading integrated solution for computer-aided product design in the automotive, aerospace, machinery, medical, shipbuilding and electronics industries.
Western Engineering Dean Andrew Hrymak said the partnership with Siemens PLM Software allows faculty members to teach their students the software skills most desired by employers.
"This partnership enables us to meet the needs of employers while preparing our students for a variety of STEM-related careers," said Hrymak. "Our students will gain real-world experience during their studies by using the same technology in the classroom that is used by companies all over the world.
"These kinds of tools are critical for our Mechanical Engineering students entering the advanced manufacturing sector."
More than 77,000 global customers of Siemens PLM Software currently use the NX software platform – including 29 of the world's top 30 automakers.
The commercial value of the software licenses granted to Western Engineering is more than $522 million.
Brian Mori, president & CEO of Siemens, said students should finish at Western Engineering with the software skills they need to hit the ground running as they look to begin their engineering careers.
"The techniques, knowledge and experience students will gain by learning this software will set them up to do the work that makes Canada better," said Mori. "This is a great opportunity for students. To the graduating class, I wish you luck and I hope to see you out in the field making great products soon."
Mechanical and Materials Engineering associate professor O. Remus Tutunea-Fatan, said the licensing grant allows more students to take advantage of the opportunity to learn sought-after software skills.
"Students use this (software) a lot in my classes," explained Tutunea-Fatan. "It is a very powerful program – because there is no other way to get a detailed design out of your head, to make it viewable. We hope to build on our partnership with Siemens in the future."
City of London Mayor Matt Brown said such agreements between the private and public sectors help draw top students to Western University from across the world.
"Partnerships like this go a long way to attract the best minds to London," Brown said. "Students will have access to cutting-edge software at Western – one of the best universities in the world."
View a Flickr gallery from the event here.