Western soars at SAE Lockheed Martin AeroDesign East Competition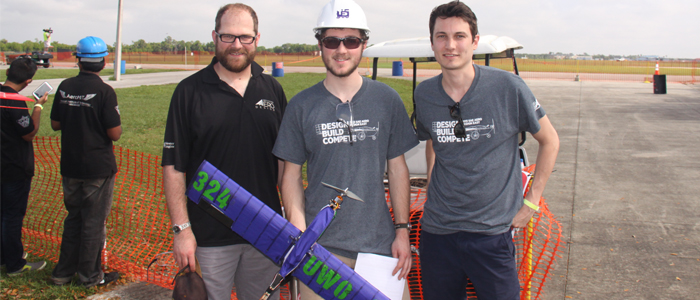 Western Engineering News | March 26, 2015
By Jason Teakle
Western Engineering's AeroDesign Team took flight at the SAE Lockheed Martin Aero Design East Competition at the Sun N' Fun and Aerospace Discovery Centre in Lakeland, Fla. from March 13-15.
Western's Advanced Class team took home first place for its design report, seventh place for design presentation, fourth place for most accurate payload drop and fifth place overall, while the Micro Class placed second on its design report, seventh in design presentation and 11th place overall.
The Advanced Class was required to design and build an eight-pound aircraft fitted with a .46 ci engine. The aircraft was required to lift 15 pounds and be able to carry and drop an additional three pounds – within 50 feet of a target from a height of at least 100 feet – using a control system. Representing the Western AeroDesign Team in the Advanced Class were fourth-year Mechanical Engineering students Nathan Curiale, Arun Ravi Shankar, Justin Liang and Pete Kasemphaibulsuk, as well as graduate Biomechanics Engineering student Duncan Iglesias and Mechanical Engineering Intership student Sotirios Petrou.
The Micro Class was evaluated based on payload fraction, which is the ratio of payload weight over the weight of the aircraft. The aircraft was required to disassemble and fit into a tube with a six-inch diameter and be assembled within just three minutes. Representing Western in the Micro Class were second-year Mechatronics Systems Engineering student Bryce Dudley, second-year Mechanical Engineering student Nathaniel Holmes and fourth-year Mechanical Engineering student Josh Eagen.
Tony Straatman, a professor in the Department of Mechanical and Materials Engineering and the Western AeroDesign Team mentor, said the students worked tirelessly to achieve success at the competition. "I'm very proud of the dedication of our AeroDesign Team members, who worked very hard to achieve such success in the SAE AeroDesign competition in Florida," said Straatman. "It is competitive results like these that show Western Engineering students are among the best engineering students in North America."
With more than 30 teams from across the globe – including India, Poland, Russia, Mexico, Brazil, Puerto Rico and across both the United States and Canada – competing in the Advanced Class and Micro Class categories, Western students pushed through stiff competition to achieve impressive results.
Nathan Curiale, team leader of the Advanced Class said the team began planning its design in July 2014 and wrapped up simulations and modelling in January 2015. Curiale added that members put in long hours throughout first term and the team successfully worked together through challenges and obstacles on the project.
"I feel like it was a team victory for us and I think it's amazing that we placed first in design," explained Curiale. "This is Western AeroDesign's second great year in a row, and it proves that we can design efficient, stable aircraft based on sound theory and practical experience."
Bryce Dudley of the Micro Class group said the competition gave Western AeroDesign Team members the opportunity to "engage with significant, real-world engineering problems," and to apply engineering lessons outside the classroom setting.
"Beyond being just plain fun, (the competition) is a chance to really dig deep into real-world engineering problems and see a major project through from planning to construction," said Dudley. "It is hard to put into words just how satisfying it is to start with a blank stack of paper and end up with a plane at the end of the year."
Dudley added that participating on the Western AeroDesign Team allows students in all undergraduate engineering programs to have the opportunity to learn more about the field of aerospace engineering.
Follow the Western AeroDesign Team on Twitter @westernuAERO for more information.