University of Oxford students visit Department of Civil and Environmental Engineering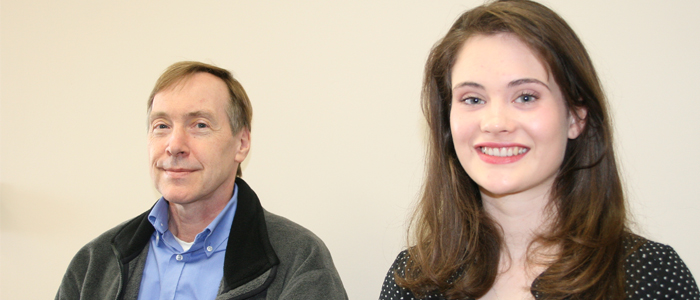 Western Engineering News | March 30, 2015
By Jason Teakle
Western Engineering played host recently to a group of British students who arrived for a tour of its research facilities, partner industries and to meet with Canadian engineering students.
Twenty Materials Science students from the University of Oxford in England visited the Department of Civil and Environmental Engineering from March 17 to 20. Western International and the Department of Civil and Environmental Engineering jointly organized the industrial tour and campus visit.
Anna MacDonald, a second-year Materials Science student at the University of Oxford, said the visit provided unique opportunities for the group to visit Western and some industrial plants in London and surrounding area – which helped them realize the real-life applications of their classroom lessons.
"The main collaboration with Western Engineering is related to the strong ties this faculty has with industry," explained MacDonald. "We saw facilities that we wouldn't have been able to see otherwise. It brings our lectures to life and we can't see it as just theoretical science any longer, because we've had the chance to engage with it."
Tours of the Boundary Layer Wind Tunnel and WindEEE Research Institute also impressed the visiting students, said MacDonald.
Adrian Taylor, Director of Studies, Department of Materials at the University of Oxford, said students always benefit from different cultural experiences and the chance to compare course structures and material with each other.
"We met with Western's Civil Engineering students almost each day and they were great hosts," said Taylor. "International opportunities like this help broaden their horizons and allow them to meet students from a Canadian university. We've had a very warm welcome."
Ashraf El Damatty, chair of the Department of Civil and Environmental Engineering, said the visit included reciprocal benefits for Western Engineering students.
"Our students were very happy with the opportunity to host the students from Oxford, who left a very good impression during their time at Western," said El Damatty. "Establishing this collaboration also works to encourage students to study in Canada."
The visiting students also met with City of London Mayor Matt Brown, experienced a London Knights hockey game, stopped in Niagara Falls and visited the University of Toronto.