Thompson inducted into Canadian Academy of Engineering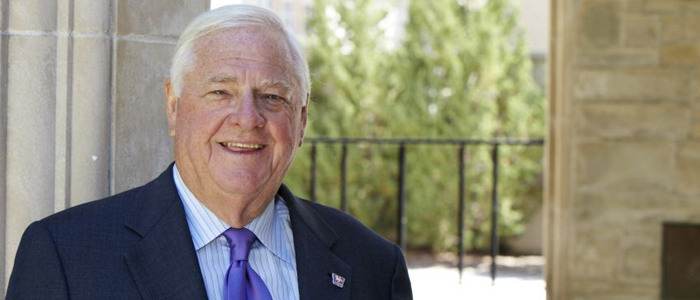 Western Engineering News | June 5, 2015
By Jason Teakle
John Thompson, BESc'66, LLD'94, a longtime supporter of Western University and champion of technological innovation in Canada, has been inducted into the Canadian Academy of Engineering (CAE).
CAE President Pierre Lortie inducted 50 new Fellows into the Canadian Academy of Engineering on June 4.
"We welcome the new Fellows. They are engineers of outstanding abilities," said Lortie. "In our past, Fellows of the Academy have produced major studies in the fields of education, energy and innovation; we look forward with boundless anticipation as to how these new Fellows will build upon these good works and explore new and exciting areas of engineering and its impact on public policy."
Thompson is a longtime supporter of Western, funding scholarships and awards, the John M. Thompson Chair in Engineering Leadership and Innovation, as well as campus-defining structures like the Thompson Engineering Building.
Most recently, Thompson served as Western's 20th chancellor from 2008-12, in addition to serving on the President's Council, chairing the Western Engineering's advisory board and co-chairing Western's Renaissance Campaign from 1989-94. His professional career has included leadership positions with IBM and TD Bank Financial Group.
Thompson has been a leading innovator in the information technology sector in Canada with worldwide impact through his career, fostering the link between industry and academia in practice and research. His leadership has been shown through university governance appointments and his leadership and philanthropic support for the Hospital for Sick Children.
Thompson has also provided advice and leadership to groups including the Canadian Business Council, Corporate Higher Education Forum and the Conference Board of Canada. His leadership and contributions to Canada were recognized with the Order of Canada in 2013.