The Western Formula Racing Team is gearing up for a Competition in Germany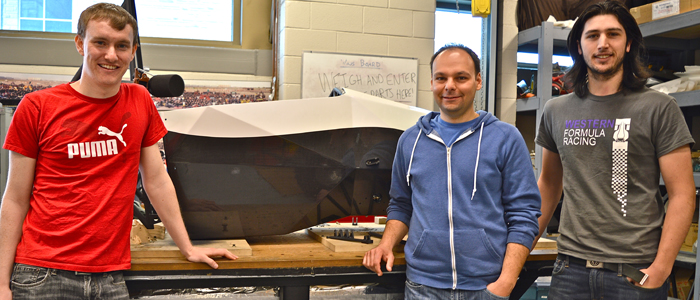 Western Engineering News | April 24, 2015
By Jason Teakle
The Western Formula Racing Team Team is tuning up its racecar to be ready to take on the world's best student racing teams at a prestigious competition in Germany this summer.
Fifteen team members will travel to Hockenheim, Germany to compete against 75 teams in the Formula Student Germany Competition, held at the Hockenheimring racetrack from July 28 until Aug. 3.
Team co-captain Matthew Crossan said the student team members are working around the clock on its vehicle.
"We're extremely excited," said Formula SAE team co-captain Matthew Crossan, a fourth-year Mechanical Engineering student. "This team was established at Western in 1988, and we have not participated in this competition before. Everyone in the Formula SAE student community sees the Formula Student Germany Competition as the premier competition. All the top teams will be there."
But the team still has a long way to go before competing in Germany – with three other competitions scheduled prior to the trip – in Michigan, Nebraska and Barrie, Ont.
"We expect to be among the best North American teams in Germany," said Crossan. "Having three competitions under our belts prior to going to Germany in July, will allow our team's vehicle to have more reliability, endurance and we will be aiming for a great finish."
The team members travelling to Germany have already begun exploring German culture while working on their vehicle in the student shop, by learning basic German words and playing German music.
"We are embracing German culture."
Western Formula Racing is aiming to raise $10,000 in donations to help send its 2015 car to Europe and to complete mid-season upgrades through a month-long, online crowd funding campaign in May found here.

As the team expects to finalize its vehicle in the next week, members will put their race car on display for public viewing when they host a public vehicle-unveiling event at the Collider Centre for Technology Commercialization, located at Western's Advanced Manufacturing Park, on Saturday, May 2 from 2 p.m. until 5 p.m. All are welcome to attend.