Students celebrate research opportunities in China during Chinese New Year luncheon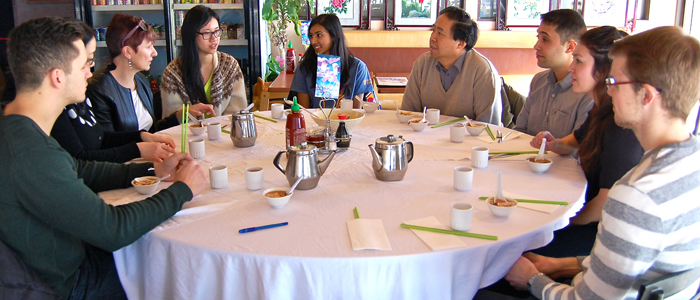 Western Engineering News | February 24, 2015

By Jason Teakle
Nicole Foster combined learning and travel last summer by immersing herself in Chinese culture while completing a summer research term at Zhejiang University of Technology in Hangzhou.
"Everything was so different and I had a chance to learn about a new culture, live in residence and conduct research on wastewater treatment," Foster said. "I have Chinese ancestry, but I had never been to China before and I wanted to see it."
Foster, a fourth-year Chemical Engineering student, was one of 16 Western Engineering students who completed summer research in China during one of the past two summers.
Six of the 16 students celebrated Chinese New Year a few days early at a luncheon hosted by Jesse Zhu – a professor in the Department of Chemical and Biochemical Engineering and Canada Research Chair in Powder Technology Applications and director of the Particle Technology Research Centre – at Asia Gourmet on Wharncliffe Road North on Feb 10. Chinese New Year fell on Feb. 19 this year, with 2015 being the Year of the Goat in the Chinese Zodiac.
"Students learn a lot when they travel far from home," Zhu said. "We offer these opportunities because they are very good learning experiences for students."
The summer research opportunities available to Western Engineering students in China were carefully planned to meet students' needs, after Western responded to requests to send its students to Chinese universities.
"To expose our students to international opportunities, we designed the program to benefit them," explained Zhu. "The benefit is obtaining research experience beyond their classroom learning, and I explain to students what their routine will be like while they are in China."
Margaret Cooper, undergraduate and international recruitment coordinator for Western Engineering, said the summer research opportunities the students have completed are part of the Global and Intercultural Engagement Honor, which is available for students to apply for through Western International.
"One of Engineering's strategic goals is for a minimum of 25 per cent of our undergraduate students to have some international experience during their programs," Cooper said. "The experience they gain while in an international setting allows them to have the ability to integrate their cultural learning into the classroom and share that knowledge with other students.
"Students also bring this knowledge to their future employers, which sets them apart in their employment searches and job interviews."
Suhaib Saleh, a fourth-year Chemical Engineering student who completed summer research in China in 2013 at East China University of Science and Technology in Shanghai, said he felt welcome during his time in the country.
"I became used to living in China, trying new foods, and speaking enough Chinese to get by, day-to-day," Saleh explained. "This was my first international travel experience and it was very enlightening."
During his time conducting research in China, Saleh stayed busy by working on three different projects related to improving the efficiency of China's energy sector – using crushed coal to produce power.
"I learned a lot, and it was very valuable from both a cultural and academic standpoint," Saleh said.
In 2015, 14 Western Engineering students will complete summer research opportunities at five different Chinese universities.