Stone to reach out to rural women in Ghana this summer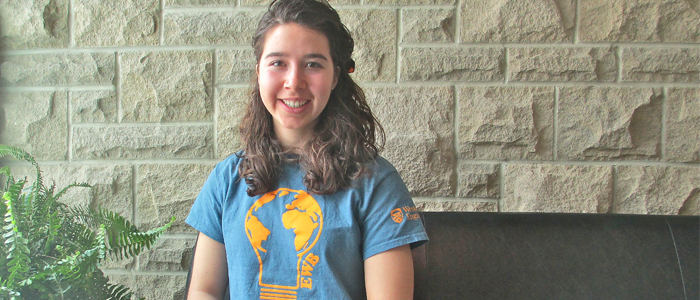 Western Engineering News | March 11, 2015
By Jason Teakle
Hilary Stone is gearing up to cross the Atlantic Ocean and participate in innovative development work in Ghana on behalf of Engineers Without Borders (EWB) Western chapter.
Stone, a third-year Chemical and Biochemical Engineering student, will travel to Kumasi, Ghana from May until August as this year's EWB Western Junior Fellow – and she's ecstatic to go.
"I have always wanted to have the opportunity to represent the (EWB Western) chapter and go overseas," Stone explained. "I would like to gain my own perspective on development work, be able to bring that back to the chapter and share it with people. This is a unique opportunity to help determine what my future role in international development could be."
During her time in Ghana, Stone will be working with VOTO Mobile – a mobile phone engagement company that works to reduce communications barriers in the West African nation – to give citizens a greater voice and keep them informed in relation to political and social issues.
"There are more registered SIM cards in Ghana than people," Stone explained. "VOTO Mobile sends automated voice messages and SMS surveys and then collects data.
"This could involve NGOs using the company's services to gather or distribute information about maternal health programs, or how foreign aid funds should be allocated, to name a couple examples."
One of VOTO Mobile's most significant challenges, and what Stone will spend the bulk of her time on, is reaching Ghana's rural women – a demographic in the country that has been next to impossible to compile data on or speak with about issues of importance to them.
"My main question to figure out is how best to engage and reach rural women," Stone said. "I will be reaching out to and working with organizations that already work in these villages and communities to hopefully find new ways to reach and engage them."
Determining whether rural Ghanaian women typically have their own cellular phones, have access to reliable mobile service in their rural regions or are willing to communicate and share data with companies like VOTO Mobile, are all issues that Stone plans to investigate while working with the company.
"The most significant thing I want to get out of this experience is to gain a range of communications skills by speaking with and learning from many people that I look forward to working with while I am in Ghana," Stone explained.
Shivani Chotalia, president of EWB Western, said Stone was the right person for the job of 2015 Junior Fellow.
"We had an in-depth selection process for the junior fellowship," Chotalia said. "Hilary blew us away with her understanding of EWB as an organization and the complexities of development work."
EWB Western invites members of the Western University community to attend an upcoming charity event that will help fund Stone's work in Ghana and support the chapter.
EWB Western's MOSAIC: A Charity Art Auction will be held on Thursday, March 26 from 6 p.m. – 9 p.m. at Elsie Perrin Williams Estate, located at 101 Windermere Rd. Student tickets are $40 and regular price tickets are $60, and available for purchase here.
The event will include a silent auction, hors d'oeuvres and distinguished guest speakers, including Western Engineering Dean Andrew Hrymak and EWB Western's 2014 Junior Fellow, Tara Tabatabai, who travelled to Ghana in the summer of 2014.
EWB Western is looking for London artists to donate works of art, which span a variety of mediums and themes. London and area artists interested in donating are asked to contact Elizabeth Blokker at eblokker@uwo.ca to make arrangements.