Robert Graham delivers Western Engineering Distinguished Lecture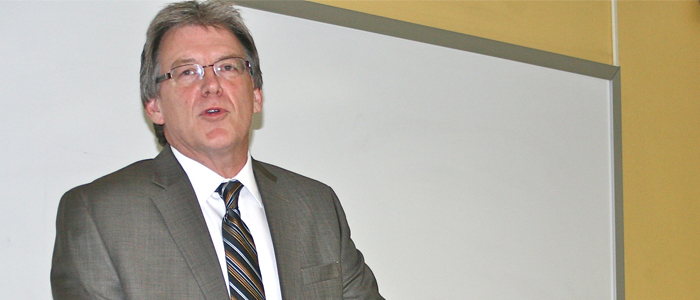 Western Engineering News | January 15, 2015

By Jason Teakle
Robert Graham credits the people he met and the perseverance he gained at Western for building a successful company that converts wood and other solid biomass to renewable liquid fuels.
Graham, (MEng'78, PhD'93), chairman and CEO of Ensyn Corporation and director of Ivanhoe Energy, delivered the Western Engineering Distinguished Lecture on Jan. 15. During his talk, titled: "The Commercialization of Emerging Technology: Through the Valley of Death," Graham highlighted how he took the ideas he generated at Western and converted them into commercial reality.
"My professional career really began when I came to Western," said Graham. "Things changed for me. It was a pivotal time in my life because Western was a great place for people and ideas."
Graham completed his MEng and PhD at Western Engineering, where the mentorship of Chemical and Biochemical Engineering professor Maurice Bergougnou and longtime friendship of Ensyn's executive vice president and chief technology officer, Barry Freel (BESc'82), led to his success in engineering and business.
"Dr. Bergougnou is the best mentor I ever had and I have worked with my best friend (Freel) for 30 years," said Graham. "All students should find a mentor to save them time, help them with ideas and career preparation. They should enjoy the environment at Western where people can express their ideas and make a reality out of them."
The strong personal and professional relationships he gained helped give Graham the perseverance to launch Ensyn Corporation in 1984, market its food chemicals, develop unique commercial processes for renewable liquid fuels – and build a company – which now employs about 80 people.
"There must be a huge personal motivation that gets technology into the marketplace," he explained. "Failure was not an option – we lived and breathed developing our technology."
The obstacles and roadblocks along the way didn't keep him from reaching his business goals.
"If you heard how many times we were told that things would not work, you would see how we became almost defiant," said Graham. "If something does not defy the laws of science, persistent and motivated engineers will find a way."
Ensyn Corporation is now meeting the needs of the petroleum sector in dynamic, technologically advanced ways.
"We are always rejuvenating," noted Graham. "We're producing actual specification gasoline and diesel fuel from wood – as opposed to a blended stock. The government wants the petroleum sector to use more and more ethanol, but they are at the ceiling of blended stocks. Any higher levels of ethanol in fuel would require new infrastructure and engines."
As a supporter of the continued growth of renewable energy generation, Graham sees its enormous potential – but said it's only part of the solution.
"There is a tremendous existing petroleum infrastructure, with the huge demand of fuel needed for industrial production and transportation of people and goods," he said. "The world is hooked on liquid fuels, but we need to gradually reduce our use of fossil fuels over time.
"This generation is demanding that energy be renewable to reduce the impacts of climate change and greenhouse gases."
Ensyn is working to meet the pressing need for renewable sources of fuel.
"The petroleum industry looks favorably on us," he said. "Our interests are aligned."