Price brings international experience to teaching, research program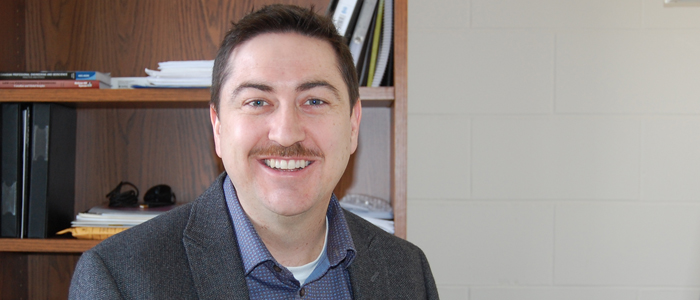 Western Engineering News | February 27, 2015
By Jason Teakle
Aaron Price works in uncharted territory by developing smart materials for industrial applications, while bringing international industry experience to both the classroom and research laboratory.
After spending four years working at ABB's Corporate Research Centre in Germany – specializing in the application of electroactive polymers, magnetic shape memory alloys and piezo-transducers for industrial sensing, energy harvesting and actuation technologies – Price joined the Department of Mechanical and Materials Engineering at Western Engineering in January 2015.
"One of the major attractions to the position that I filled was it is in the Mechatronic Systems Engineering program," Price said. "My industrial experience lent itself well to being a good fit here, and I'm excited to share the knowledge I have gained while working in industry with the undergraduate students I teach, and the graduate students I look forward to conducting research with."
Price received his MASc in Mechanical Engineering from the University of Ottawa in 2006, with a focus on smart material-enabled prosthetics and robotics. He completed his PhD in Mechanical Engineering at the University of Toronto in 2012, where he developed novel nanoscale EAP actuator technologies for adaptive optics systems.
Simply put, Price said he works to develop new materials that move when they are stimulated.
"I work to combine emerging 3D printing technologies with smart materials to realize the advantages of both," Price explained. "We are currently able to make thin films with these materials, but my research program aims to extend our capabilities to be able to build active, 3D structures with fine features.
"This gives us control over developing our own materials and then we can focus on applications for these materials."
Once the materials are developed in rough, Price will work to refine and better understand their properties and begin looking for suitable industrial uses for them.
"We will then fine-tune the properties, find one that works best and learn more about the underlying mechanisms, because they are not fully understood," explained Price. "Some of the applications – where there are significant energy savings to be achieved – are attractive to industry."
Though such technology remains in its infancy, it will eventually open the door to many new possibilities.
"There are niche applications that this technology unlocks that can't be achieved any other way," Price said. "It's up to design engineers to be innovative and exploit these new capabilities. This work opens the door to many new opportunities. This is truly game-changing."
Price said he is looking for graduate students to conduct research with him. Interested students are asked to contact him at aaron.price@uwo.ca. His office is located in Spencer Engineering Building 3026A. Learn more about Aaron here.