Prakash develops ultrasonic technology to analyze oil-water mix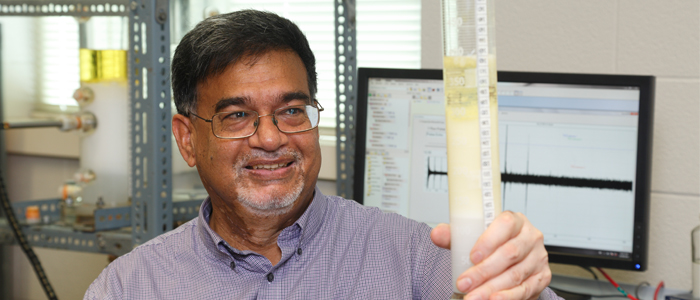 Western Engineering News | June 5, 2015
By Jason Teakle
What if sound waves could measure water levels in a mix of oils, grease and fats?
Everyone knows that oil and water don't mix, but Chemical and Biochemical Engineering Professor Anand Prakash has developed a Self-Calibrating Ultrasonic Monitoring System to improve the reliability of oil-water mix analysis – a crucial capability in the oil and gas sector and other industrial applications.
"We are using low intensity ultrasonic waves to monitor the separation of oil and water for different industrial applications," said Prakash. "This technology is less prone to fouling than current technology, is low-cost and there are no special health concerns.
"In the oil industry, crude oil is cleaned with fresh water which generates emulsion layers. These layers need to be monitored and controlled for proper operations."
What is known as FOG – fats, oils, and grease – is a dense mix that makes oil and water separation difficult to accurately monitor.
WORLDiscoveries, Western's business development branch, helped Prakash with securing a partnership with Monteco Ltd., a Toronto-based investment firm.
Imperial Oil has also committed $75,000 over three years to Prakash's project, and an NSERC/CRD has been approved for $120,000 during the same period.
"Oil companies are looking for a better way to monitor oil and water," he explained. "This is about finding a more reliable, low-cost way to clean crude oil."
Prakash and his research team are working to develop additional, innovative ultrasonic monitoring products for industry in the future. The research group has worked since 2009 to commercialize several pieces of intellectual property, including a probe, an ultrasonic pulser unit and electronic components.