PhD candidate honoured for developing remote access to teaching equipment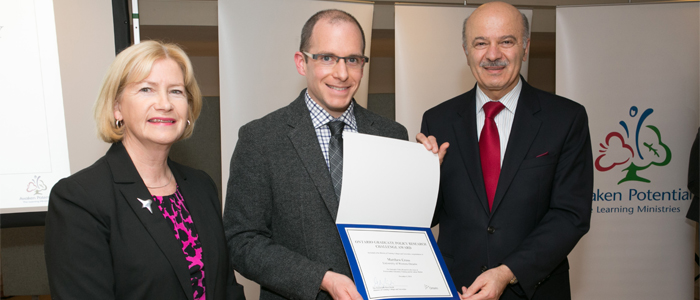 Western Engineering News | January 9, 2015
By Jason Teakle
Matt Cross is aiming to bring Western's leading-edge engineering lab equipment into universities across the country and was recently honoured for his work to develop remote access capability for robotics.
An Electrical and Computer Engineering PhD candidate, Cross is the recipient of a $3,000 Ontario Graduate Policy Research Challenge award for his work on "Remote Access for Engineering Laboratory Teaching." Cross accepted the prize during a ceremony at the University of Toronto on Dec. 8.
The project, run by SHARCNET, focuses on opening remote access to specialized laboratory teaching equipment for other universities to access and perform the same types of laboratory activities conducted at Western – without the cost of developing new labs.
"The demand for undergraduate engineering education is increasing in Ontario," said Cross. "To meet that demand, universities must be able to increase their lab teaching capacities. In the absence of unlimited budgets, facilitating remote access to teaching lab equipment among universities is one way to meet this demand."
Preliminary remote access trials have been successful during the project, which began last year, he said.
"We connected a mobile robotic platform to enable remote access and recently demonstrated this with the Italian Mars Society, which conducted driver performance research remotely from Italy, using our robot at Western," said Cross. "We provided the mobile robot and the user interface, they logged in and used an Xbox controller to assess driver performance through a circuit with a five-second time delay."
Once more successes are achieved, universities across the country will be approached to develop partnerships for remote access teaching.
Cross said while the project is currently in the early development stage, its initial focus is to meet the laboratory requirements for the fourth-year Robotic Manipulators course in the Mechatronic Systems Engineering program.
"There is a set of lab experiments in this course and we're part way to being able to complete them remotely," explained Cross. "I'm doing the software development and integration to enable the functionality of the robotic manipulator."
The project will eventually aim to secure licensing agreements or reciprocity agreements with other universities who remotely use laboratory equipment, to ensure the equipment is being used more frequently.
"In certain engineering teaching labs, the activities require specialized equipment that is used for these activities, but then it often remains unused for the rest of the term or year," said Cross. "When it's the middle of the night here, it's midday in Australia, for example, so there is an opportunity for remote access capability to be used elsewhere when it's not in use here.
"We hope to be in a position to offer this lab course's activities fully remotely, and we hope to include other types of robotic devices to enable remote research."
As the sole engineer recognized by the Ontario Graduate Policy Research Challenge, Cross said he was pleased to receive the award. "It was certainly an honour to be one of the award recipients, particularly the only recipient from an engineering discipline," said Cross. "A project like this demonstrates the multi-disciplinary value of engineering fields."